About me
I've been part of Holmen's long journey, and it's been exciting and enjoyable every step of the way, but, looking ahead, I have to say that the best is yet to come! I started out at Paper, working in sales, spent about five years as a marketing manager and wound up heading the business area before taking over as President and CEO almost seven years ago.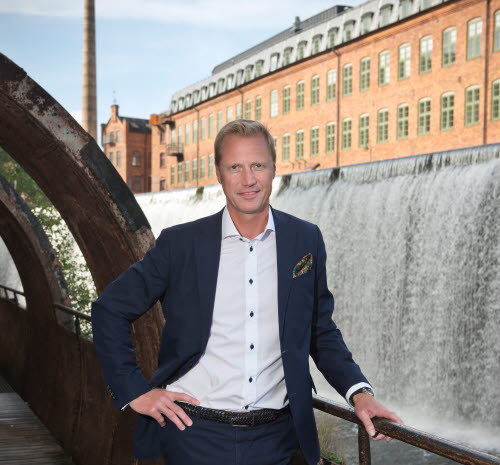 Picture: Henrik in Norrköping.
Besides the job and my family – I have a wife and four children – I play tennis and a bit of padel. Recently I have to admit there's been more racquet sport than usual as we haven't been able to travel or socialise like we used to. Having a network of tennis buddies also livens up the time I spend in Stockholm, as I work in the capital but most of my family are in Norrköping.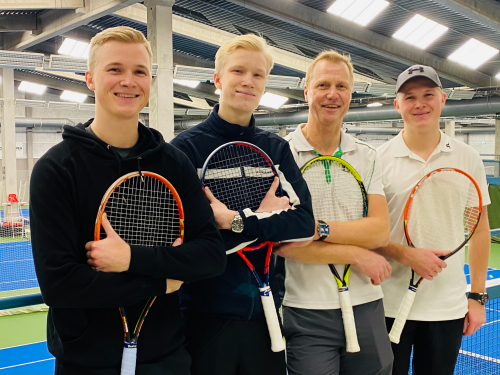 Picture: Henrik with his children.
How can I help?
I spend a lot of time thinking how I can help all of us to do better and how together we can create a culture where as many people as possible find working in our excellent company inspiring. I believe in delegated leadership and being clear about everything we do. You can see that when you look at the way Holmen is organised into five business areas, each one responsible for its own part of the business. At the same time there are some aspects where it makes logical sense for us to do things the same way and benefit from each other, because we are stronger together or because it's more efficient.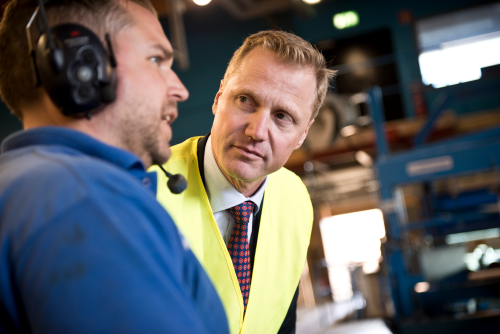 Picture: Henrik with a colleague from Braviken's sawmill.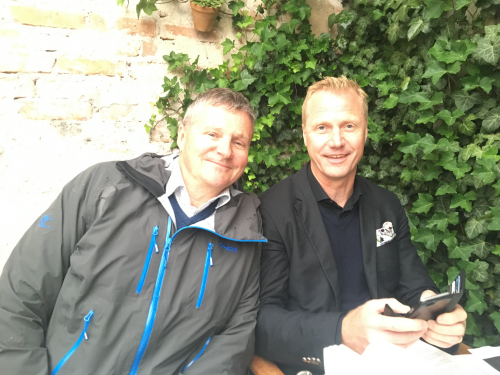 Picture: Henrik with Nils, Director International Affairs.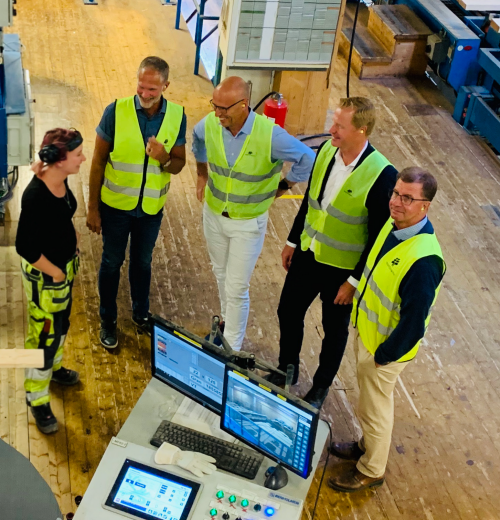 Picture: Henrik visiting Bygdssiljum.
Our sustainable business
What primarily unites all of us at Holmen is our sustainable business and the climate benefit we create together. All the business areas have their part to play and between us we make sure that over 6 million tonnes of fossil CO2 doesn't end up in the atmosphere. It's quite an impressive feat! Climate benefit begins in the growing forest, which binds CO2 itself. But the fact is that we create even more climate benefit through the products we produce from the forest raw material which replace fossil-based alternatives. Then we have the amazing opportunity not just to harvest the trees that grow, but also the wind that blows through the treetops. What's more, wind power and our hydro power benefit the climate by replacing fossil energy elsewhere.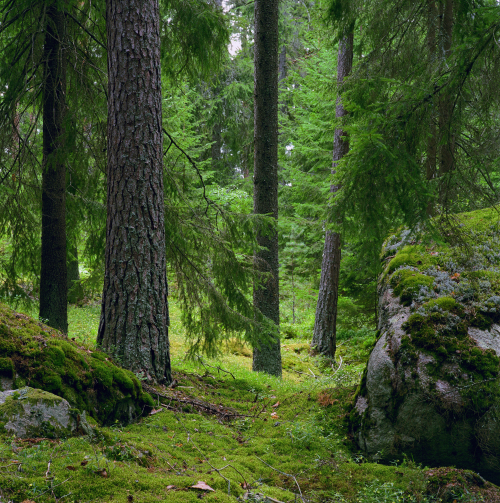 Picture: The climate benefits begin in the growing forest.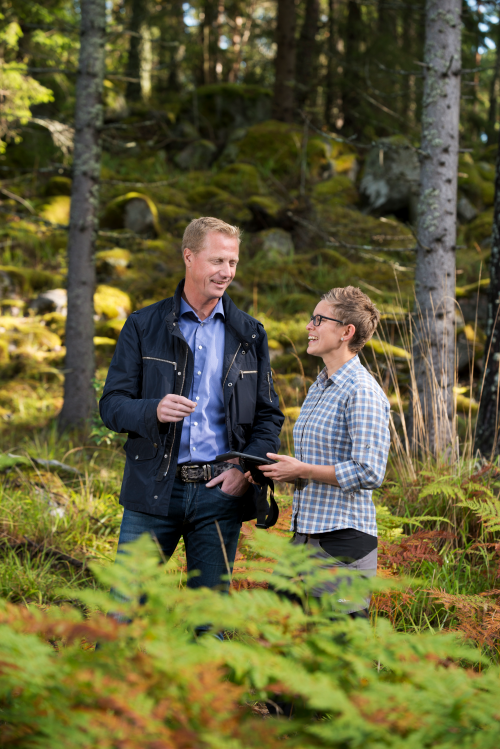 Picture: Henrik and Linnea in Holmen's forests.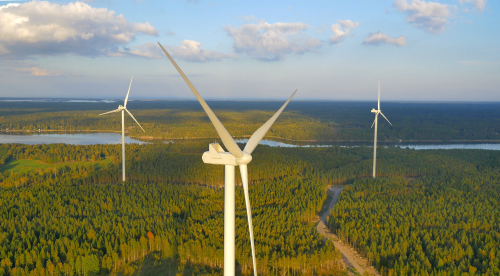 Picture: Wind power (above Varsvik) together with our hydro power also contributes to the climate benefit.
We should also be proud that together we have managed to cut our own fossil emissions by almost 90 per cent over the past 15 years. This has been made possible by deliberate investments, mainly in energy, such as biofuel boilers and energy restructuring at Hallsta, but also by shutting down and phasing out fossil-intensive operations, plus a number of smaller initiatives and hard work from Holmen's employees. This means that today we have very few emissions left, the majority coming from purchased input goods and transport.

Picture: Hallsta Paper mill
Our shared brand
Our sustainable business is also the one thing that most clearly unites us under our shared Holmen brand, which we will be building even stronger as we develop our business into the future. Because ultimately, it is by getting the forest to grow a little better, harvesting a little more, building a few more buildings and homes out of wood and getting a little more paper and paperboard out onto the market, while harvesting a little more of the wind that blows through the trees, that we can best benefit the climate and strengthen Holmen as a brand.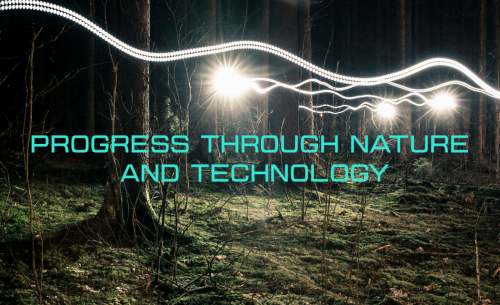 Picture: Brand image.
Video: Progress through nature and technology.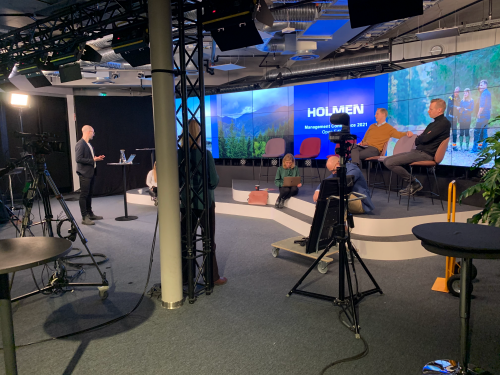 Picture: Recording in connection with the internal launch of Holmen's new brand.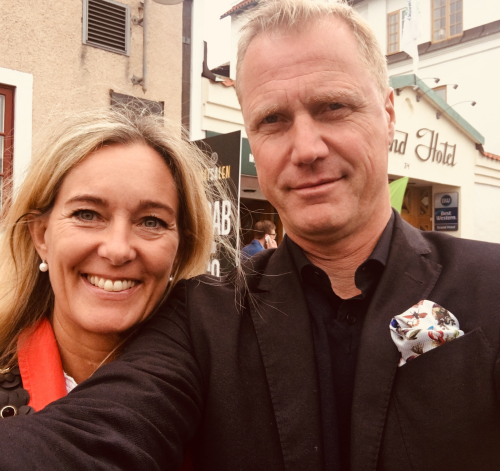 Picture: Henrik and Stina, Sustainability and Communications Director, at the beginning of Holmen's brand journey.
The best is yet to come
I started out by promising that the best is yet to come and I want to emphasise that. It will be exciting to follow progress on the EU's Green Deal, which I am convinced will benefit companies like Holmen that are in the right place at the right time, with products that really can help to make the future sustainable. I see better development opportunities ahead for all the business areas today than I did just a few years ago and I look forward to us rising to the challenge and building an even stronger Holmen together.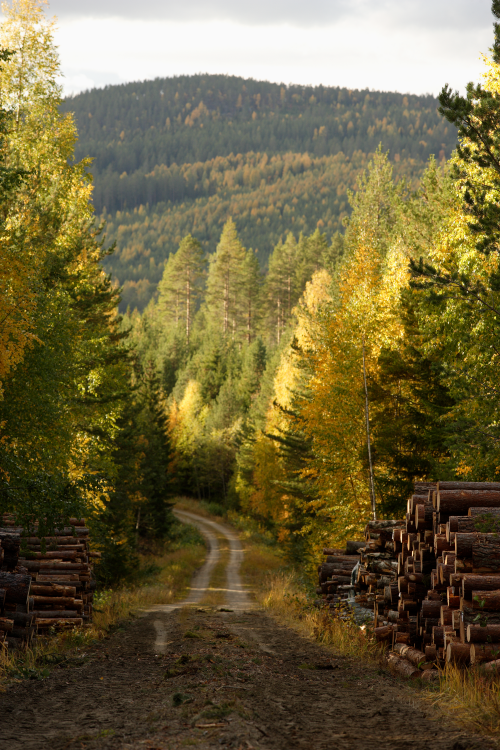 Picture: The best is yet to come
Picture: Holmen's sawmills play a key role in our circular business.