Short about sustainability
Circularity - an integral part of our business
Holmen owns and adds value to the forest by using renewable raw material to make climate-smart products through a business model that covers the entire group and is almost completely circular. Circularity means that resources are used, reused, recycled and is finally energy recycled, in this way we avoid final waste.
Holmen's forest management has chain-of-custody certification, which means that all the wood can be traced back to its origin in sustainably managed forests.
Through active and sustainable forestry, we increase the forest's growth and its ability to absorb carbon dioxide. The raw material from the forest continues to bind carbon dioxide even in refined form and substitution occurs when wood-based products and renewable energy replace fossil alternatives with higher climate impact. This is where Holmen's climate benefit becomes most apparent - when our products reduce the need for fossil materials and raw materials, which means that coal can stay in the ground.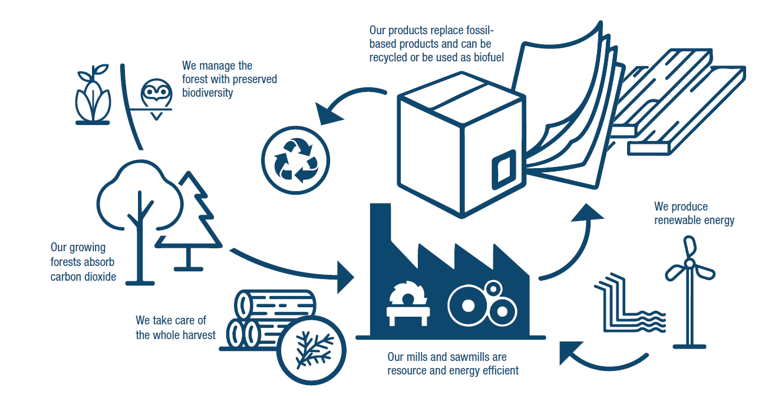 Biodiversity
For many years, Holmen has been working actively with nature conservation, which aims to contribute positively to biodiversity.
Holmen's goal is for all naturally occurring species to survive in the forest landscape. We combine active forestry focused on high growth with protecting the diversity of natural habitats and species in our forests. We forgo forestry or conduct active nature conservation at 20% of the forest area. In addition, we have identified almost 8 000 sites that we do not harvest. These are either left to their own devices or we carry out measures to protect and improve habitat diversity. Read more about biodiversity here.
By-products and waste
As a result of legislation and efforts to find alternative uses, the volume of waste sent to landfill has fallen to the point where, for many years now, it has accounted for 0,5 per cent of the by-products and waste generated by Holmen's operations.
When our fresh fiber-based products are used to its limit, they provide the recycled paper industry with the necessary addition of raw material in the form of fresh fiber from sustainably managed forests.
Energy
The proportion of electricity produced by our own hydropower is significant and our own production of electricity from biofuel and wind power has increased in recent years within the Group.
Holmen uses large amounts of energy. We have certified energy management systems at our units in the Group and have programs to streamline the use of energy.
Clean water
For the production plants in Sweden and the UK, the supply of water is good. The amount of water used in production decreases steadily as a result of increasingly efficient methods and equipment. Nearly 100 percent use surface water from lakes and watercourses.
The environmental situation in the waters outside Holmen's factories has during the last 40 years been considerably improved through new process technology and technical measures.
Holmen participates in industry-wide environmental research to investigate measures which leads to constant improvements in the environment.