"I'm so pleased that I get to lead and develop the mill together with all the knowledgeable and committed employees here. Everyone has shown tremendous strength and fortitude in these difficult days, with coronavirus raging. The teamwork is even closer than usual!"

Jenny tells us that employees who recently left have offered to help in various ways to secure production. The UK has gone a little further than Sweden in its social lockdown to bring coronavirus under control, but since the mill manufactures packaging for food and medicines, the business is seen as essential and is free to continue as usual.

"We're urging those who can do so to work from home, but production is still rolling along and we will do everything to keep production going. The order book remains very strong," Jenny continues, adding that the management team has meetings every day and is working with the union to develop contingency plans based on different scenarios.

Her previous role was head of the department for paperboard production and finishing, and she succeeds Ulf Löfgren, who has moved on to a new position as production director for the Iggesund Paperboard business area.

Jenny feels great support from the whole organisation after five years locally and a total of 17 years of previous experience in the paper industry, both in Sweden and Brazil.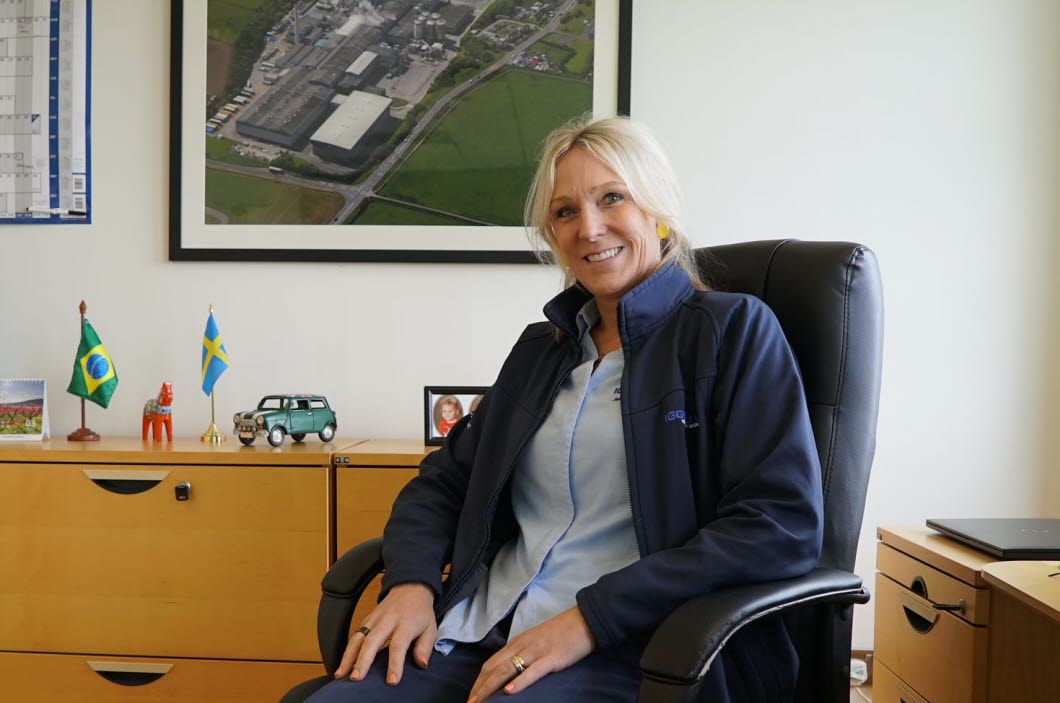 "The time that has left the biggest mark on me is the three years I spent in Brazil. It was for Stora Enso and I went there in 2007 as quality and development manager at a huge new eucalyptus pulp mill with an annual capacity of 1.2 million tonnes."

It was both a personal and a professional challenge, with a new culture and new language to contend with. Jenny learned Portuguese in just six months. She met her husband Bruno, who worked in maintenance at the mill, and the couple had their first child in Brazil.

"I learned a lot during that time, not least about myself, which has benefitted me greatly. Being thrown into a whole new culture means that you have to adapt and adjust – and that causes you to grow as a person."

Brazilian society is very different from Sweden and has much larger divides.

"The people are very warm and caring, and at work too I was impressed by their interest and drive. They're very competitive, constantly wanting to learn more so they can get better and break new records."

Being a woman in a male-dominated organisation was absolutely not a problem, Jenny says, and stresses that everyone worked as a team.

"I've never actually experienced any resistance because of my gender either in Sweden or in the UK. Right now I'm the only woman in the mill managers' group and that was also the case in production, so it would certainly be good to have more of us. I hope to be able to provide some inspiration in this area."

As a parent with young children, however, life in Brazil became complicated, with long days and commuting to and from work. That's why the family moved to Skutskär in Sweden in 2010 (still with Stora Enso). Having worked mainly in development and quality, Jenny now turned her hand to production management, while Bruno got a job in maintenance.

In 2015, Jenny received a call from Annica Bresky, then CEO at Iggesund Paperboard, asking whether she fancied another new foreign challenge – working with folding boxboard in Workington. Annica explained that there were plans to rebuild the press section and increase production, and the prospect of this and working in the UK sounded very exciting.

"We were there in three days. It rained incessantly, but we were still very taken with the place. We were given a characteristically warm British welcome and the area is stunningly beautiful. In addition, Bruno is a kite surfer. He loves the sea, so he was smitten right away," recalls Jenny.

What will be most important for Workington going forward? 

"Workington has done an excellent job in recent years. Now we need to continue our work, with a focus on our customers, safety, efficiency improvements and cost control. My aim is to shift the decision-making further down in the organisation and take advantage of the entire operation's capabilities. The aim is to get everyone to act on their own initiative and take responsibility for ensuring that things get done, so that we can be even more efficient and therefore also more competitive.

"As far as I'm concerned, it's important to keep challenging all the time, pushing the boundaries, and preparing everyone to think along new and different lines, so that we can become even better. This will encourage people to grow and make them willing to take on even more responsibility."

Jenny also stresses the importance of close cooperation, not least with the sales organisation, in order to develop both product quality and service.

"We face extremely tough competition in the future, with new machines and higher capacity in the market. We therefore need to ensure high quality in everything we do and be flexible and open to constant changes along the whole chain from raw material supply to delivery and service."

How does the future look?
"Very positive. We have products with a superb reputation, which we must maintain, and I'm confident about the place of paperboard in the drive to cut plastic use and its impact on the environment. What's more, both here at the mill and throughout Holmen, we have employees who always make sure things get done, which is invaluable in difficult times like these! We have very short decision paths and can change tack quickly – and the British sense of humour makes things even more fun at work!"