Interest in studying industrial and technology subjects has been tailing off for many years now. This is particularly true in younger age groups, where industry-related courses attract low numbers of applicants. The mills are constantly looking for new employees to provide the industry with the skills it needs for the long term. It is an industry where the chances are extremely good of landing an exciting job immediately on completion of an industrial programme at upper secondary school.
Tradition meets Hi-Tech
The question is how to get more of today's young people, who often associate hi-tech with computer games and mobile phones, to choose to study for a career in our traditional primary industry. An industry that today – even with all its traditions – is high-tech, modern and forward-looking.
Marina Gåverud, HR manager at Fiskeby Board, is keen to emphasise all the interesting jobs that the industry has to offer. There is so much more to the industry than the outdated view of heavy, dirty industrial labour.
"We know we have exciting and varied jobs to offer. The pulp and paper industry is developing rapidly and there is a lot of focus on health and safety, ergonomics and sustainability. We are constantly working for improvements, both in the production process and for our employees," Marina emphasises.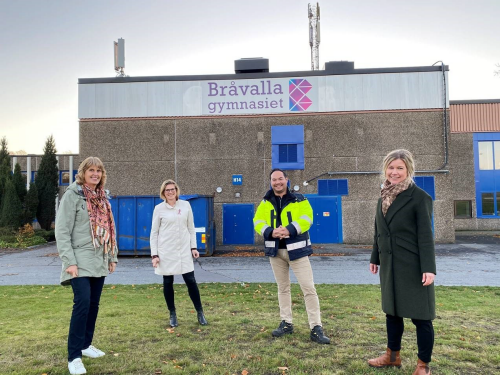 Innovative, smart and sustainable
Employers' talent management issues can sometimes be sensitive and to a certain extent the companies are competing for the same people. But that assumes that there are actually trained people available to recruit in the first place. To get more young people to realise the benefits of industry-relevant training, there is a need for a higher profile, more clarity and stronger arguments.
One innovative way of getting the important message out about the exciting vacancies available in a working environment that fosters career development is to join forces and market the industry together – and Norrköping's paper mills recently did just that.
Helena Rasmusson, HR manager at Braviken, talks about a perspective that runs far beyond Holmen's own operations.
"The recruitment dilemma is not linked to a specific company. It concerns the whole industrial sector and we have to find new ways forward. We want to show that we are action oriented and make the industry more attractive. We want to raise our profile together, stand strong together and show that we mean business by being present at every step of the training path. Together we want to support and help schools and students to develop close contacts with us in the industry, starting with upper secondary school level," Helena explains.
Popular initiative
The initiative was launched to tie in with the opening of Bråvalla Upper Secondary School in September 2019. Bråvalla offers programmes in electricity, energy and industrial technology, some of the vocational specialisations the paper mills are looking for. The paper mills jointly sent a banner of Norrköping's successful paper mills which was displayed at the opening as a clear and tangible sign that when it comes to training, the industry is setting individual commercial interests aside.
Marie Ebbesson, HR manager at Fitesa Sweden, talks about good collaboration that is also exciting to be part of.
"Bråvalla's opening was a perfect first occasion to be seen together. It is through an open, targeted cooperative relationship with Norrköping's schools that we think we can make the greatest difference, initially with the upper secondary school but in the long term also at compulsory school level. We received a great response from Bråvalla and the partnership feels hugely positive, not just for the schools but also for us out in the companies. Working on these questions is fun and useful," says Marie.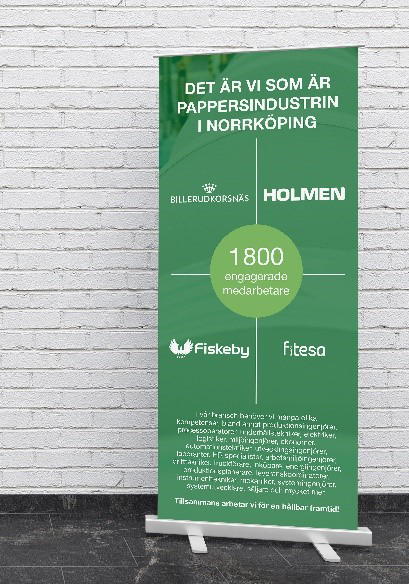 Summer job guarantee and scholarships
In quite a short space of time, the first joint banner has been joined by a number of concrete initiatives. Conversations between the companies have resulted in a summer job guarantee, where the mills together are designating a number of holiday cover posts for second year students at Bråvalla studying industrial technology. A paper industry scholarship was also awarded for the first time in 2020, an excellent extension of marketing the industry jointly.
The swing of the pendulum
The popularity of the once mighty paper mills seems to have waned in favour of trendier industries. The mills have "always" been there, after all. The units produce and sell their sustainable products and make a constant contribution to the public economy, but are perhaps not the region's most revolutionary business in terms of wow factor. But that is exactly what they are. It is time to push the trend pendulum back the other way and retake a well-deserved place as an attractive industry, according to Jimmy Hayashi, HR manager at BillerudKorsnäs:
"Our industry is amazing to work in. We've got variation and development opportunities that are hard to beat. We know young people want their work to be sustainable and eco-conscious and that is exactly what we do here every day. We offer exciting jobs both straight out of upper secondary school and for those who want to study further, e.g. for an engineering degree. Norrköping's primary industries are highly relevant but I think that sometimes we get a bit forgotten, and now we need to change that," says Jimmy.
Together Marina, Helena, Marie and Jimmy's workplaces employ almost 1,800 people in Norrköping. An important actor in society to be reckoned with. An actor that has decided to fill the factories with new, young workmates capable of taking the tradition on into the future. And one that has courageously realised we are stronger together.