A lot has happened since the first inflight magazine was launched by Pan American World Airways back in 1952. In those days, flying was an exclusive luxury. Since then, flight times have got shorter, safety has improved and the leg room has shrunk, but the inflight magazine is still there in the pocket of the seat in front as part of the entertainment on offer along with films and music.
Magazine with a global outlook
As a magazine, it often has a global outlook and not only performs a function as a brand building tool, but also provides information about various destinations, events and exciting trends. Most passengers will flick through it at some point on the flight. If you want to get a message out there, airline passengers are a receptive group to target, as entertainment is limited on board and, in their seats, they are a captive audience. On the other hand, this target group can be hugely diverse, with readers of different ages with wildly varying interests.
Paper choice for the inflight magazine
Published monthly by Motivate Media Group, the inflight magazine Open Skies focuses on quality journalism and top-class photography. Readers of the latest edition navigate between a palace in Portugal, Japanese mascots and sights in Cyprus. Although the magazine is published by an exclusive airline like Emirates, the readers aren't flicking through glossy pages but a matt, slightly rough surface. This is because the magazine is printed on the paper Holmen TRND, with a bulk of 2.0 and a weight of 70 g. The company's inflight film and TV guide is printed on Holmen TRND too.
Emirates Printing in Dubai, which prints the magazine, has used Holmen TRND for other magazines before. The printer regularly receives enquiries from customers interested in switching to Holmen TRND. And considering that the inflight magazine reaches a wide and influential target group, you can see why.
"Some luxury magazines are moving away from glossy paper and instead going for paper that has character and stands out. Holmen TRND has become popular with publishers that produce food magazines and niche magazines, and demand high standards of photography and colour reproduction," says Jenny Johansson, Vice President Sales, Magazine Segment at Holmen Paper.
"One enquiry came in from a publicist in Dubai who had read Open Skies and wanted to use the same paper for their own magazine," says Jenny Johansson.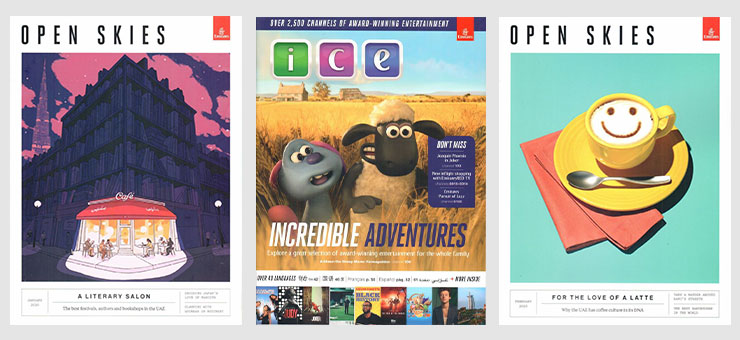 When weight counts
For an airline, creating lasting relationships with customers is important, but so is keeping the weight down. Weight has a direct impact on how much fuel is consumed, which in turn affects costs and carbon emissions. In 2018, United Airlines announced that they had saved 643 000 litres of fuel by printing their inflight magazine Hemisphere on a lightweight paper. The change in paper made the magazine 28 g lighter. It might not sound much, but for an airline with 4 500 flights a day, it makes a difference. Several other airlines have followed suit and chosen to use lightweight paper.
"Choosing a fresh fibre paper with high bulk gives a chunky magazine but with the difference that it weighs less. Holmen VIEW Matt is also a high-quality paper with excellent colour reproduction, which suits this type of magazine," says Jenny Johansson.