"People have this perception that paper use is bad for the environment, but it doesn't have to be. It all depends what kind of paper and ink you use, and how energy-efficient your equipment is."
Roularta Media Group is a Belgian multi-media company with some 1,250 employees and an annual turnover of €300 million. It publishes a mix of news, business, sports, lifestyle and special interest magazines, including several of the top-selling titles in the Benelux region. Roularta Printing is a major player within the group, accounting for close to one-third of its employees.
While sustainability may have become the name of the game in recent years, it is nothing new for an organisation that has been actively working to improve its environmental performance since 2006. Since then, it has published four sustainability reports and put in place a slew of new climate-forward practices.
"As we're in this business for the long haul, we see it as our responsibility to do things in the greenest way possible," continues Renders. "We will still need to be able to do our business in an eco-conscious way 50 or 100 years from now. This was the vision we devised 15 years ago," he says.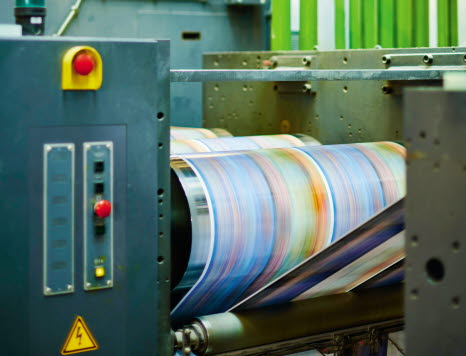 What concrete changes can a printing company make?
Roularta Media Group's sustainability goals were inspired by the United Nations' Sustainable Development Goals (SDGs), which were adopted by the United National General Assembly in 2015. The 17 goals relate to the three dimensions of sustainable development: the economic, social aspect and ecological aspects. To date, the group has implemented activities that contribute to 15 of the 17 SDGs and remains committed to promoting every form of sustainability.
"The printing industry faces a huge challenge, not only to change the public perception of paper, but also to adopt more sustainable habits".
So, what concrete changes can a printing company put in place to reduce the climate impact of its operations and make them more sustainable for the future?
Renders says it comes down to energy efficiency and supplier selection.

"We work closely with our suppliers to make sure our machines are constantly being upgraded to make them as efficient as possible. When we buy paper, we buy it from suppliers who are growing more forests. When we buy ink, we see to it that it doesn't contain any harmful toxins."
Upgrading machines and certifications
In the past ten years, Roularta Printing has invested €100 million in upgrading its machines to make them more state-of-the-art and optimise their energy efficiency. The most recent magazine press the company installed was a massive 50% more efficient than its predecessor. Going forward, Roularta will work with its suppliers to replace parts of existing lines with more eco-friendly, energy-efficient solutions.

Since 2009, Roularta has been certified according to the FSC (Forest Stewardship Council) and the PEFC (Program for the Endorsement of Forest Certification Scheme). These two certification systems ensure sustainable forestry management and, as a result of the certification, Roularta Printing is permitted to buy, process and sell paper certified with the FSC© and PEFC label. Furthermore, the company only uses ink that has been certified by the German "Blue Angel" eco-label, which sets high standards for sustainable product design.
Paper instead of plastic
Looking to the future, Roularta still has work to do. In May, it received delivery of a new paper packing machine that will bundle magazines in paper instead of plastic.

"Some countries have already banned plastic foil, so we took the proactive approach and changed one of our four lines to paper wrapping," says Renders.
"When we buy paper, we buy it from suppliers who are growing more forests."
Steven Renders on supplier selection.
Energy efficiency
In November 2019, Roularta Media Group attained ISO 50001 certification for energy management. This certification is designed to support organisations across all industries by providing a practical way to improve energy use through the implementation of an energy management system (EnMS).
Renders explains that, unlike emissions and wastewater disposal, which are governed by specific legislation, there is no legal limit on the amount of energy a company can consume. However, ISO certification obliges Roularta to comply with strict energy-efficiency targets.

"Of course, the certification places additional pressure on us as an organisation, but it's also a huge motivator," he says. "As a company, our objective is always to be at no more than 50% of the maximum threshold allowed, so the targets didn't represent a huge shift for us – we were already in pretty good shape."
Stimulate biodiversity
The company has also installed 2,000 solar panels on the roof of its facility in Roeselare in western Belgium and is in the process of planting 30,000 trees on the 60,000 m2 of land that surrounds the factory. This will make the area greener and stimulate biodiversity.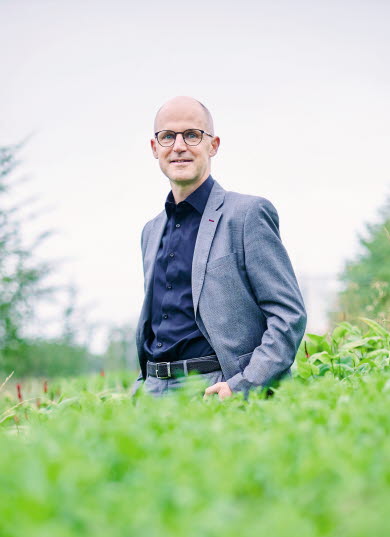 "We have sustainable paper and sustainable ink, we have maximised the energy efficiency of our machines and installed solar panels, but we are not able to produce all the energy we need in house," continues Renders, who believes that, ultimately, demand for sustainability will be driven by the market and by legislators.

"While not all of our customers are demanding sustainable products yet, we believe that will change in the future. You can see it already in the financial services sector, where sustainably minded businesses are prioritised for loans," he says, concluding, "In future, I think sustainability strategies will become a condition for doing business and we are ready for it!"