About me
I come from Brazil and I've been living in Umeå for almost three years now. In Brazil I studied Engenharia Florestal, which is the equivalent of Sweden's certified forester qualification. In 2015 I was given a grant to study as an exchange student for a year and I chose to come to Umeå.
Why Umeå?
At the moment, it's late November and it's raining and cold and the sun sets at three in the afternoon. At times like this I do sometimes wonder why I chose to live here! 😝 No, I'm only joking!
There are different explanations for why I chose Umeå, but the most important thing was that in Brazil a eucalyptus tree takes 7 years from planting to harvest. And Brazilians think that's too long. So you might understand how intrigued I was when I heard that in Sweden trees take 60 years to grow! Or more! How can you wait such a long time? I was fascinated by that! And then there was the fact that before I came to Umeå, I'd never seen snow or the northern lights so Umeå was going to be quite an adventure!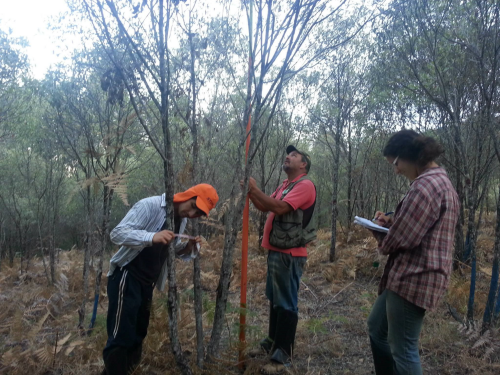 Photo: a day in the forest in Morro do Pilar – Minas Gerais – Brazil. The trees are candeias (Eremanthus erythropappus)
I studied here for a year and while I was here, I met my partner, who comes from Poland. We moved to Brazil for a while, but it was a bit too hot for Jakub there (OK there were other reasons too, but 25 degree heat in the winter was the last straw for him). So we decided to come back to Umeå and I've now been living here since 2018. From 2018 to 2019, I studied Swedish and passed my driving test.
In my free time I like cycling, painting watercolours, playing board games and trying new things.
A day at work
Today you're going to join me on a day as a logistics officer, so I think we should start from the beginning:
What do I do?
As I said, I work in logistics and I work at Holmen Forest, at Wood Department North. We are responsible for supplying wood of the right quality, at the right time, at the lowest possible cost while taking people and the environment into account. We do this by planning, ordering and following up transport and deliveries.
There are eight employees in the wood department: three logistics officers, two delivery coordinators, one wood specialist/wood economist and one wood manager.
Every logistics officer is responsible for a flow area in Region North. My responsibility is Västernorrland and Jämtland. I like this because it means I talk to people from Örnsköldsvik to the Norwegian border! In a normal month we deliver about 80,000 m3 of wood. That's quite an impressive amount! 😉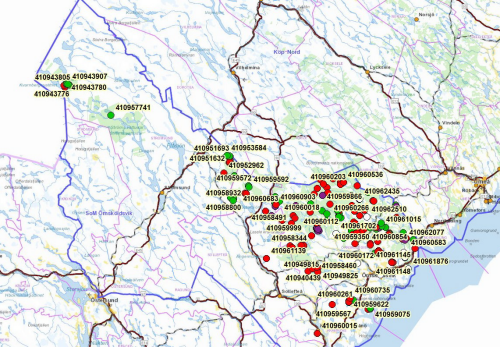 Photo: Every dot is an area in the VSOP program.
As well as being in touch with my colleagues, I have a lot of contact with haulage contractors, the ones who actually transport the wood. The haulage contractors are a key factor in successful deliveries, so it's extra important that we communicate and work together with them well.
At the moment we're in the middle of the Coronavirus pandemic, so I'm working from home and this is what my 'office' looks like: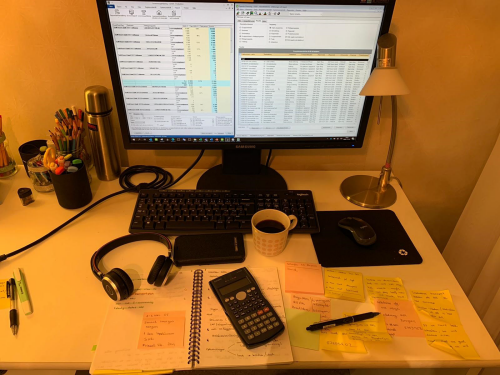 Photo: My desk
But what does a logistics officer actually do?
A logistics officer is the person who is responsible for operational flow management of ongoing deliveries to customers in line with a transport plan. It takes a lot of communication and collaboration to get the (right) wood to our customers.
That's what I think the biggest challenge is: getting a shipment to one customer, that's easy. Getting shipments to ALL the customers is a totally different story.
Working as a logistics officer means asking questions and solving problems. And so my day begins with two questions: how did it go yesterday and what do we need to do today?
We have two programs that help us, VSOP and Lever. I use VSOP to check how much we have in our distribution warehouse, where the wood is, where it needs to get to, etc. VSOP is very detailed and I can see how shipments are going by area and haulage contractor. Lever gives me a broader picture of what total shipments look like in my flow area, irrespective of the contractor.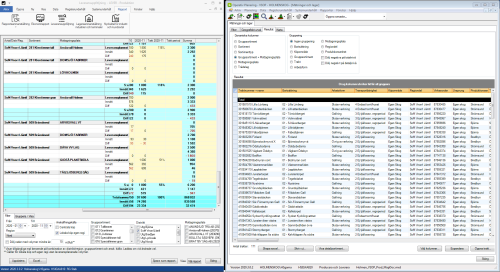 Photo: Screenshot from Lever and VSOP
In my role it's very important to keep track of how much we are producing, where the wood is and what the weather is like. So I spend a lot of my day in front of the computer and I 'study' the stock and the conditions in my area. After the first check, I talk to the haulage contractors and delivery coordinators to see if there are any problems anywhere or a specific demand (spoiler alert: there is ALWAYS something).
One example:
We are in late autumn and it's been raining so much that we aren't able to keep deliveries at a nice steady pace. When you have a lot to do, it's better to do a little every day and keep things running smoothly. But because we don't want to risk a road accident or a truck getting stuck, we sometimes have to wait until the weather and the roads improve. I never thought I'd be so happy to see a frost. Fortunately the temperature has dropped to -4.
Today we have a customer, we'll call them Star Saw, with an urgent need for spruce saw logs. November can be a tricky month for spruce saw log production, and then there's the bad weather too. But my job is to find a solution for our customer, so I consider our options:
1 – Distribution warehouse: how much does the customer need? Do we have the stock in our distribution warehouse?
2 – Transport: do we have the transport capacity? Are the roads driveable?
To answer these questions I ask new questions!
I ask the delivery coordinators:
- "Hi, how much does Star Saw need today?"
- "300 m3, they need it today, or first thing tomorrow at the latest."
I check VSOP and I see we only have 50 m3 in our distribution warehouse at the moment. But we also have 250 m3 that's been harvested but not forwarded. Ah-ha!
Then I talk to the production manager:
- "Hi, how's it going with spruce production for Star Saw?"
- "It's going well, the volumes will be in on Friday." (Today is Tuesday).
- "Can you forward anything before then?"
- "No, unfortunately one of our machines has broken down!"
- "Oh no!"
So my first answer to my original question is: We have no wood available in our distribution warehouse.
In Brazil we say "sometimes you have to sell lunch to buy dinner".
We have another customer too, we'll call them Sun Saw, and we've got more than 1,000 m3 of spruce saw logs available for them at the moment.
So I ask our wood specialist:
- "Hi, do these saws have the same cross-cutting requirements?"
- "Yes!"
- "Can we take part of the volume we already have for Sun Saw and send it to Star Saw?"
- "Yes!"
So now we've got our stock in the distribution warehouse! All that we need now is to check if we can transport the wood. I do that by phoning the haulage contractors and asking if they can do it – and they can!
Mission accomplished! 😉
The rest of the day is filled with similar tasks and what they all have in common is that they take a lot of communication. If you look at my 'little' example, you can see that I have to talk to quite a few people! Every week we have at least one briefing booked in with every haulage contractor, one delivery management meeting with the production department and one wood department meeting. On top of these planned meetings, we have lots of conversations, emails and online chats with each other.
Our systems support our decision-making, but just me and the computer can't solve everything on our own. Good communication is a key factor for success in several roles, but it's extra important in logistics.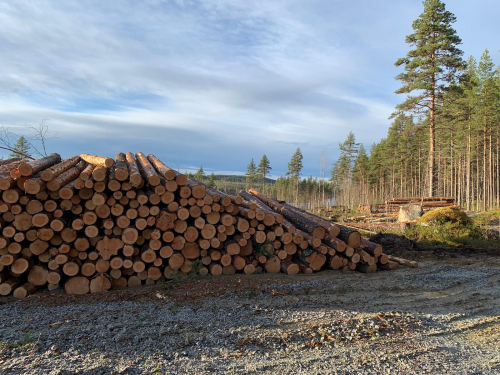 Photo: A day out in the Strömsund area
Working in logistics is never dull!
We're always keeping lots of balls in the air and that's an aspect of the job I find really exciting. But it's difficult too. It's not like following a recipe. Every situation needs different solutions and everything can change really quickly. We might be working at top speed this week, then the weather is terrible next week, and that affects the pace of work a lot. My solution for the volumes might no longer work, so I have to ask my colleagues for help.
Something I appreciate about working at Holmen is that everyone wants to help. There are lots of people with a lot of experience and they are happy to teach me. People are nice to each other! I feel that everyone wants to improve and everyone is working hard at that. I'm still quite new in the role so it's great to have this kind of atmosphere in the workplace.
Holmen is a big company that is keen to get even better and it has confidence in people's potential. I am challenged by my job and I really enjoy that aspect of it!
And my colleagues aren't just helping me with the job, they help me with Swedish language and culture too! I'm learning more and more about different dialects, expressions and about Swedish cuisine. For example, this weekend I was given a recipe for 'lussebullar', the saffron buns Swedes eat at the feast of Lucia and during Advent, so I have to stop blogging now and get ready to start baking.😉
Finally, I'd like to thank you for reading my blog. It was interesting spending the day with you. I hope I've given you a better picture of what a logistics officer does.
Wishing you all a good weekend (and a Merry Christmas🎅🏼)! Thank you!