About me
I was born and raised in a village called Vemdalen in the Swedish landscape of Härjedalen. After a few years on the go, I am now back in this little village. I love the proximity to the nature here. Right now I am looking forward to the spring winter and cross-country skiing in the mountains with my companion dog Göte. That's one of the best things I know!
I have been a trained forest master for two years and I have not regretted for a second that I chose to work within the forest industry. It was during my education that I first came into contact with Holmen. I got the chance to work for Holmen during the summer both year one and two, which I am very happy about. It gave me both a little more experience working in the forest, as well as the chance to get to know Holmen as a company. Holmen's values ​​and corporate culture have made me thrive since the first moment.
When I finished my education I immediately started working at Holmen as a temporary forestry manager. However, it did not last long until the job as a lumber buyer became vacant. I had neither believed nor thought that I would work as a lumber buyer so quick after my degree. Sometimes, however, things do not turn out the way you thought they would, but it can be great anyway!
Feel free to hang out with me during these two weeks and I'll tell you a bit more about what my days as a lumber buyer can be and look like!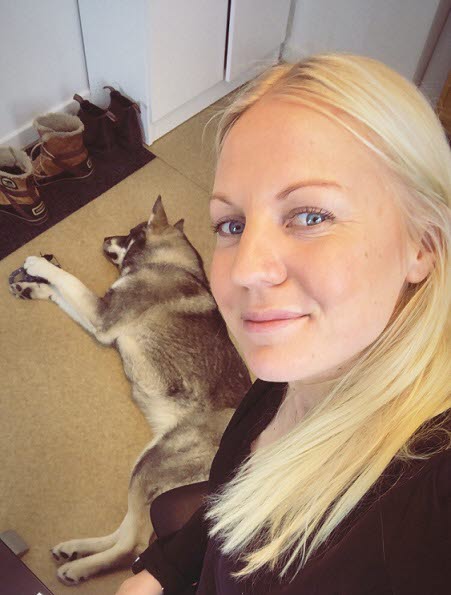 Blog post April 8
In my department, Virkesköp Ljusdal (lumber sourcing Ljusdal), we are nine colleagues who work together to annually provide Iggesund Mill, Iggesunds Sawmill, and local sawmills with about 300,000 m3 of wood. We operate in parts of Hälsingland, Härjedalen and southern Jämtland. We are located in two different offices, one in Ljusdal and one in Sveg where I am stationed. In these offices we also have employees from the Production Department, the Forestry Department and the Forest and Land Department. In order for the entire chain to be as efficient as possible, from seed to industry, it is important that we cooperate between these departments. The fact that we are all located under the same roof facilitates collaboration as we can solve a lot through both discussions at the coffee table, and that it is easy to just go to a colleague if you have a question. I am very grateful that I have so much accumulated knowledge around me that I get to share.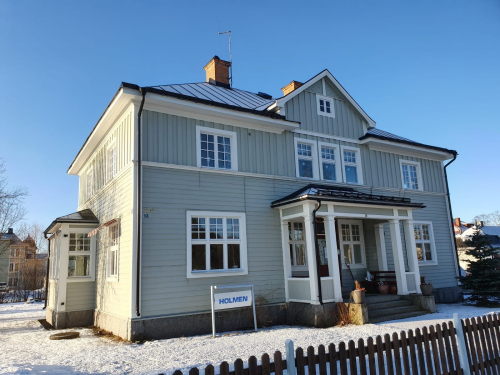 Despite many colleagues, my job is quite "lonely" and independent. It is I myself who mostly plan my days and how I want to take on my tasks. It suits me well, I have to take a lot of my own responsibility, while always having a colleague to ask if I need help.
As a lumber buyer, my main task is to buy felling rights and lumber within my purchasing area. To be able to do that, there will be a lot of phone calls, but also a lot of home visits with forest owners around my buying area. This means that I often have contact with people who do not work at Holmen, or even in the forest industry! When I physically meet a forest owner, it often happens in the forest owner's home. Then there will usually be a lot of coffee and cookies, it is always nice I think! Over a cup of coffee we can talk about everything between heaven and earth, before we even mention the forest. The fact that I get the chance to meet so many different people in my daily work is one of the best things about my job. It makes my days very varied, no two days is the same! I also spend a lot of time in the office and out in the forest. In the next post I thought you should come with me on a working day in the forest.
Blog post April 9
Today I thought you could follow me on a work day out in the field. During this Corona period, who has rocked our entire world, I am extremely grateful that I have the opportunity to work outdoors and also from home if needed.
My work day started at home when I loaded the snowmobile on the trailer, as well as packed a bag with lunch and extra clothes. I love the winter, but I really don't like freezing! Then I was ready to get in the car and drive the 5 miles to what was today's workplace. On site in the forest, I met my colleague Anders, our area planner here our department. He has many years of experience of forestry, and I am really happy that I get to work with him and share his knowledge. Today's task was to tax an area that will be harvested this summer. When there is so much snow as it still is here, the snowmobile is a great way to get out into the woods.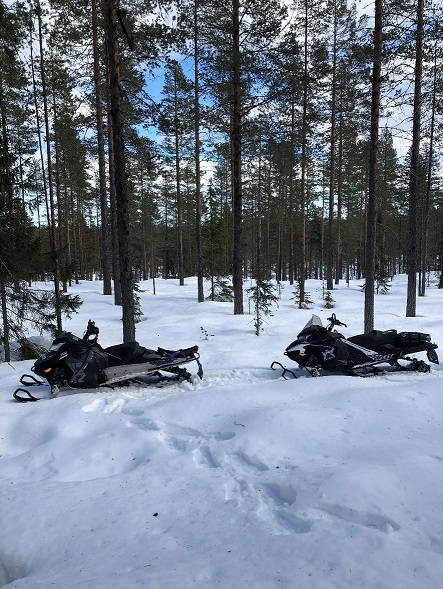 The area we assessed was approximately 16 hectares, so it took a few hours for us to estimate. We helped eachoter with the tasks, Anders measured the height of the trees and I clawed the trees to record the diameter. In the pictures below you can see Anders who is on his way to measure the height of a tree, and I was waiting with the claw in my hand.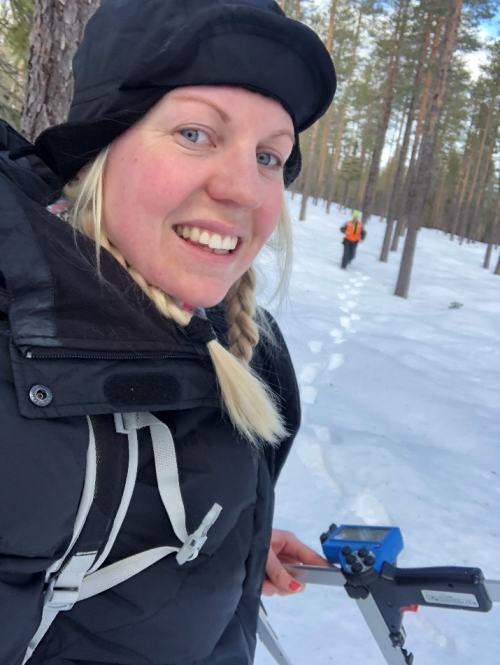 We worked for a few hours before we were satisfied with the information we gathered about the area, then we headed back to the cars. Once back at the car the clock had passed at lunchtime and I was craving for my lunch bag! It was a quick coffee and sandwich in the car before we drove on to today's second task.
The area assessed was closer to the road, so we parked the cars and strapped on our snowshoes. The task was to enter the boundaries of an area with old spruce forests which a forest owner plans to harvest. When we had gone through the area we went back to the cars. We were happy with the day and headed home to our office. Now, some work remains before I can submit a business proposal to these forest owners. This is how one of the days as a wood buyer can look like, a very good day at work in my opinion!
Before I started working as a lumber buyer, I never thought this was a job that I would enjoy as much as I do. I really think my job is absolutely fantastic! Admittedly, I have only worked for 1 ½ years, but I learn new things all the time. No deal is the other equal. I meet new people and new challenges in the forest all the time. The fact that I have my knowledgeable colleagues around me makes me feel confident in the situation. It is a wonderful feeling to feel that you get to develop with your work.
When I started as a lumber buyer, I was also a little nervous about being a woman. I hardly knew any female lumber buyer. How would I be received, especially with forest owners? My expectations have been exceeded. I have never experienced me being a woman an obstacle. I feel as respected as everyone else, whether with private forest owners or at work. Holmen works a lot with gender equality, I think is very important and contributes to this. It makes me feel safe that we all work here on equal terms 😊.
Blog post April 14
I feel privileged to work with forests. It's cool to work with a raw material that has been around for so long, and yet feels like the future. That I can, among other things, be part of and help us replace fossil raw materials with renewable alternatives feels good in my heart. It also becomes obvious that there are many different values ​​in the forest, when you, like me, get the chance to meet private forest owners. I get to hear many stories about what has happened in their forest over the years. How they planted, grazed, thinned the forest, or felled their first moose. Something that is often told with pride and I think it is very nice ti hear the stories. These are values ​​without any price tag.
Having Holmen as an employer is also something I am very happy about. Our values, Courage, Commitment and Responsibility I think runs through everything we do. Now in these special times, it also feels extra nice to know that Holmen values ​​the employees highly. I think it is evident in Holmen's actions during this crisis.
Here in Sveg, I actually have several colleagues who have worked here since the 70s, 80s and 90s. This, I think, shows that this is a good place to work at 😊.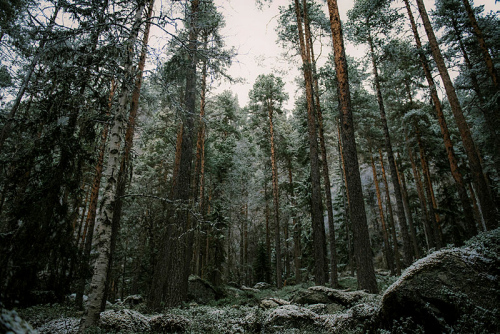 Blog post April 16
Hello again! Today I sit in our office here in Sveg. The sun is shining outdoors, but there are cold winds. Pretty nice with an indoor day. I will prepare maps and pick out cut bands for tomorrow, then it will be an outdoor day. My plan is to get out into the woods early, and mark an area that will be cleared this summer. I'll probably make sure to pack some good coffee too. I think it is extra important right now, to find small things in everyday life that can put a little gold edge on it. I think we should all treat ourselves to something simple that makes us a little extra happy.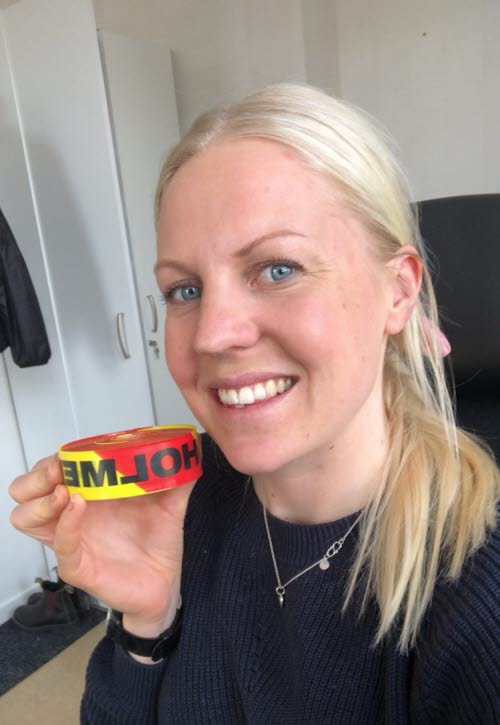 This will be my last post as a writer for our employee blog. Thank you for taking the time to read! I hope that I have been able to give you a little insight into what it is like to work as a Lumber Buyer. It is a very varied and independent job, but with lovely colleagues. Next week, another colleague at Holmen will write on the blog and I look forward to following it.

Take care of you out there!