The role as an Aspirant means that I have the privilege of trying out different departments within Holmen Forest for a year. Right now I work at the Production Department in the South region and the next step for me will be District Planning at Holmen's own forest in Norrköping, after that I will work at the IT Section in Örnsköldsvik.
About me
I was born and raised in Stockholm, but when t I was going to start high school, the family moved to Härjedalen, which of course was a big change at that age. Despite fears, the changeover exceeded expectations and after high school I started (much by chance) working for a Forest Management Contractor. We performed young forest clearings, plantings and engine manual felling over a large geography from Gävle in the South up to Southern Lapland. I thought the job was stimulating and I was part of a nice work group that lived and worked together, as most of the jobs were far away from home.
During this period, I came in contact with a lot of Forest Officials who all had a wonderful energy and attitude. After a number of years in Forest Management, I decided that the forest was the right area for me and in 2015 I started the Forester Program in Umeå. It was a very interesting training period where I met friends for life and read an education that combined: biology, technology, data analysis, logistics, economics, politics, law and more, in an interesting way.
Right now I live with my partner and dog in Norrköping. In our free time, we travel around a lot within the country, outdoors and participate in courses with our dog.(currently a retrieval course).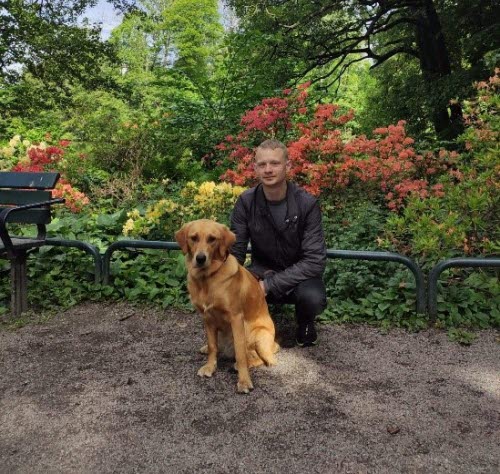 Picture: I together with Eris ~ 10 months in beautiful Rododendron valley, Norrköping
My workplace
I work, as I said, at the Production Department for Holmen Forest Region South. The production department consists of 6 production managers with corresponding production areas, production manager, production coordinator and quality technicians.
When we talk about forest production, we mean harvesting and thinning, which produces wood in various assortments, including timber, pulpwood, small timber and firewood. In a normal month in the region, we produce about 170,000m3fub of timber, which corresponds to 135 fully loaded timber trucks every day.
Our mission is to ensure that we prepare the right volume, quality and range for each recipient at the right time and at a low cost, we do it through close reconciliations with the Timber Department, Purchasing Organizations and District Planners so that we both have an idea of ​​what is possible to chop and what lies in the plane. In the best of worlds, we prepare assortments exactly according to the volumes that are in demand, but uncertainties in root layers, outcomes and driving technical aspects (fire risk, terrain bearing capacity, etc.) mean that we constantly work with qualified guesses and have to revise our production plans. This has been particularly striking since 2018, when the very dry and hot summer led to an outbreak of spruce bark beetle. This is still going on and leads to large areas of dead forest that need to be taken care of. This means that we need to be quick-footed and fell in ongoing attacks to save timber values ​​and get the timber out before the next generation of bark borers swarms and attacks undamaged trees.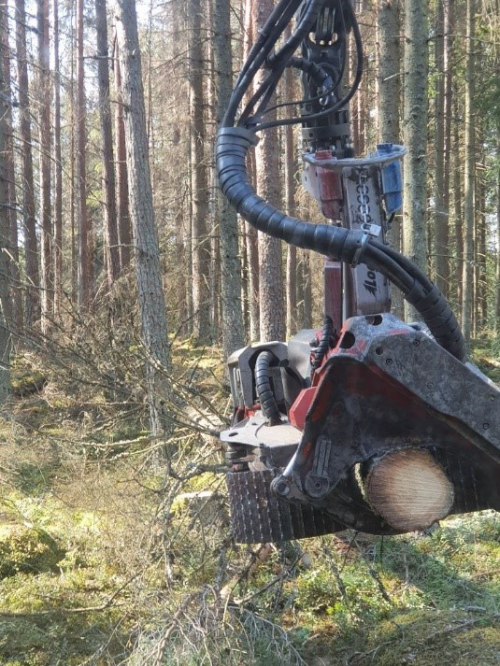 Picture from cabin of a harvester during felling of
spruce bark damaged trees. Photo: Robert Tallroth

Image: Screenshot from operational plan in VSOP - all Holmen production managers' basic programs.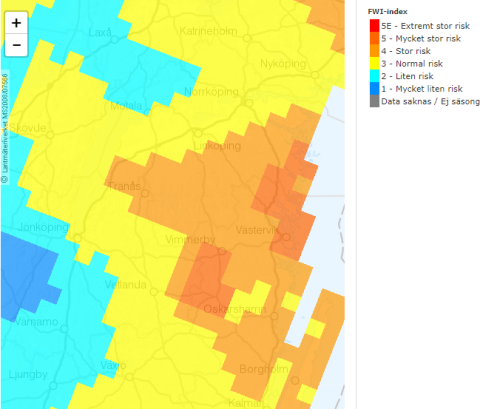 During the fire risk season, fire consultations and risk assessments together with machine teams out in the woods are an important part of the job as production manager.
As a Production Manager, you need to have the ability to understand and use the decision support systems we have, but also possess experience and wisdom to capture the parameters that the figures do not tell.
A day at work
Today I thought you would come along for a day out in the woods! We have had a SYN Nature & Culture training led by Johan Njunjes, one of our most experienced area planners. The purpose of the education is for us to update and strengthen our competence in taking into account the environment and cultural values. This requirement is imposed on us partly by legislation but above all because Holmen is FSC-certified.
The day began out in the field with coffee and a review of the day's schedule. Among the participants were both Production Managers and Machine Operators. Among other things, we learned to identify signal species that indicate high natural values ​​and forest continuity. In the afternoon we talked about consideration for watercourses, culture / ancient monuments and the day ended with a test that was answered while we walked along a loop and had to make assessments of different habitat types.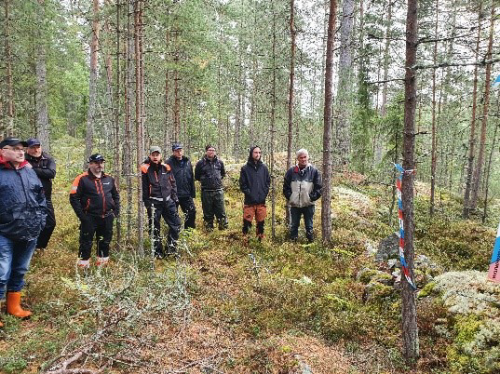 Image: Discussion of a younger fire field, for the observer
so a boundary stone can also be seen in the picture.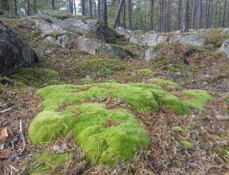 Image: Blue moss, is known to shimmer bluish at the right light and is one
signal type indicating long continuous afforestation.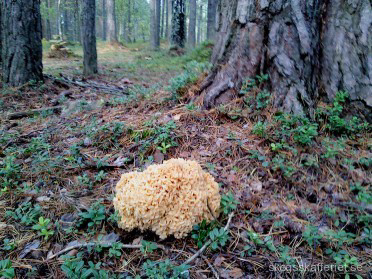 Image: Cauliflower fungus, often occurring at the roots of older pines and signals high natural values.
Best with Holmen
I think the best thing about Holmen is the size of being able to make larger investments combined with the small scale that makes the decision paths feel short. The organization is curious about improvement proposals and good ideas have good potential to be implemented in the business. There is an unpretentious atmosphere between colleagues where one is helped to solve the problems that arise without blaming. It is noticeable that Holmen cares about its staff and you are encouraged to develop in your professional role by trying new tasks or even changing business area, which I think strengthens our competence and understanding of each other's challenges.
Thank you
I want to thank you for your interest and hope that my posts gave a fair insight into what it is like to work as a Forestry Production Manager. I think it has been fun to document and write my thoughts here and now hand over to the next person whose post I will read with great interest. Wish you all a continued pleasant working week and a wonderful weekend!
Thanks you!