It has proven successful on all counts, in terms of design and content, Paper is in a class of its own – as confirmed by both Swedish and international awards. The magazine has also been a big hit with readers, giving them a positive view of Holmen Paper.
Paper lands in the mailbox of over 3 000 subscribers in 54 countries twice a year. The main target group is magazine and book publishers, and printing firms. The popularity of the magazine is clear. A survey conducted in 2017 shows that 93 per cent have a positive view of the magazine. Around 80 per cent feel that the articles are of high quality and address topical issues, and that the magazine gives a positive image of Holmen Paper. The magazine thus strengthens both Holmen Paper's brand and its customer relationships. In addition, Paper has received a number of external accolades. In 2017, Paper won the international Pearl Award and the Swedish Publishing Prize, as well as taking home silver in the Swedish Design Awards. In the spring Paper also won a Swedish Content Award.
But it isn't just design flair and exciting content that have made Paper a winner. The ambitious approach to printing and the paper itself – Holmen TRND – with its raw, matte surface and high bulk, also contributes to the success. With a bulk of 2.0 and a weight of 80 grams, the magazine is incredibly light, despite its 64 pages.
Anna Hänström, former AD for a host of lifestyle and interior design magazines, has been part of the editorial team for the past two issues of Paper:
"It's great to be able to go all in and make a product that really stands out. The large format allows scope to make a strong impact. We've always focused on quality solutions for the images, and we style and photograph practically all the images ourselves."
Holmen TRND isn't just an excellent base for bold, punchy colours – it also reproduces black and white images in superb detail, while metals such as bronze and gold come alive on the paper.
The ambition of the editorial team on Paper is to show the full potential of the paper and at the same time create unique content. In Paper #5, for example, photographer Nick Brand's black and white photos take up full spreads depicting wild animals in a world that is rapidly disappearing. The photo reportage is accompanied by colourful facts about sustainability and a playfully illustrated travelogue from locations that rarely get a mention in news reports.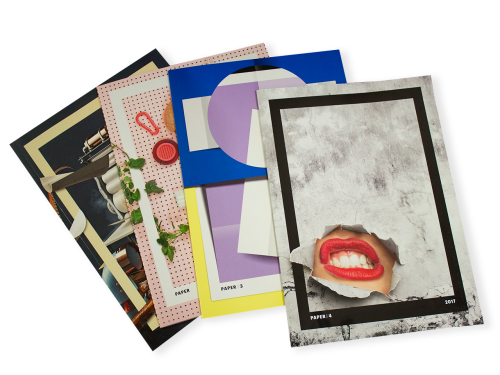 To ensure high quality throughout, the Paper editorial team works with professional writers, illustrators and photographers. All the images are sent to Bildrepro Stockholm, which sets them according to the print profile and carries out a test printing, while Larssons Offsettryck makes sure readers get a well printed magazine to enjoy. However, the printing process is not without its challenges. The eye-catching images on the first and last spreads require skill to get right. The insert uses Holmen TRND while the cover is a thicker paperboard. Getting the image on the spread to look like a single entity even though it carries across two different papers with different brightness demands close collaboration between the editorial team, repro and the printers.
"At the input stage, we check the quality of every sheet in the edition. The printing presses are set based on the test printing from repro, but a number of adjustments always need to be made to achieve the right colours and tones. This takes great skill on the part of the printers. Images that are opposite each other on a sheet may need to be adjusted once you've seen them together," says Anna Hänström.
Paper is printed on a sheet-fed press with 10-colour printing, where both sides are printed at the same time. The sheets are then dried for one and a half days before being bound. Larsson Offsettryck has printed all five issues of the magazine and it's a product they enjoy working on:
"It's a pleasure printing a magazine with such high ambitions. As a far from standard job, it very much keeps us on our toes. It's never just routine," says Stefan Gustavsson, salesman at the printing firm.
He often uses Paper as a sales sample when he meets customers.
"The biggest advantage of Holmen TRND is the high bulk. The paper weighs almost nothing and that makes distribution much cheaper. I usually let customers flick through Paper and compare it with magazines in the same format but with lower bulk. Most of them are amazed at how little Paper weighs in comparison and many of our customers have chosen to switch to Holmen TRND."
Erik Gustafsson, one of the print technicians at the printing firm, is also a big fan: "The paper is made from fresh fibre. It's uncoated and slightly uneven, but by applying a little extra force in the press, we end up with a very fine surface. The opacity is also extremely good, and it runs easily in our printing presses."
In other words, both Paper and Holmen TRND are products for our time. More and more book and magazine publishers are discovering the benefits of using a light and bulky paper. And in an age when B2B communication is mainly digital, Paper is a message carrier that stands out in terms of both format and content.