"The biggest thing we buy from our suppliers is paper. It accounts for 85-90% of our offsets, even though at the moment we only buy paper from Swedish mills, because they have the best figures for carbon emissions. Holmen is outstanding in that area."
The ScandBook Group is one of Scandinavia's biggest book printers. "We print books, books and only books, from the smallest soft cover books to the largest hard cover books," says Alf Linder, site manager at the ScandBook factory in Falun, Sweden.
"We have two plants, one here in Sweden, ScandBook Falun, the other, ScandBook Klaipeda, in Lithuania, and together we make around 45 million books a year. We are active in 13 countries. And our printing facility in Falun is probably the most environmentally friendly book printer in the world!"
Linder admits that he can't possibly know for sure that ScandBook Falun is the most environmentally friendly book printer in the world. This is why he always adds the word "probably" when talking making this claim. But he does feel pretty confident about it. "We have customers who measure us against our competitors and our figures are totally outstanding. No one else comes close," he says, underlining the ambition to become completely carbon neutral by mid-2022.
How to become completely carbon neutral, scope 1-3
Like many organisations ScandBook Falun categorise their carbon emissions according to the three scopes set out in the Greenhouse Gas Protocol. Scope 1 covers direct emissions from an organisation's own operations. Scope 2 covers indirect emissions used by the organisation, such as heating, electricity and travel. And scope 3 covers indirect emissions generated in an organisation's supply chain.
For scopes 1 and 2, the things they have most control over themselves, ScandBook are almost completely carbon neutral already. They have achieved this partly by investing in sustainable technology, such as the ink jet printing press they acquired five years ago, and partly through buying renewable energy.
"The printing press produces hardly any waste and requires no chemicals at all," says Linder. "The electricity we use is generated completely from water or wind and our heating is 100% carbon neutral. But the vast majority of our carbon footprint falls into scope 3 and is generated by our suppliers." To achieve their goal of being 100% carbon neutral, ScandBook therefore offset any emissions they still produce, including those generated through the value chain. This, Linder says, amounts to almost 95% of their total offsets.
Calculate everything – even the salads
"We calculate everything. Pulp, paper, printing, delivery to customers' storage facilities. We don't take care of the last mile or what the publishers are doing, but we offset everything else. That even includes what we eat here, the salads we get in, our commutes to work, what computers we buy and so on."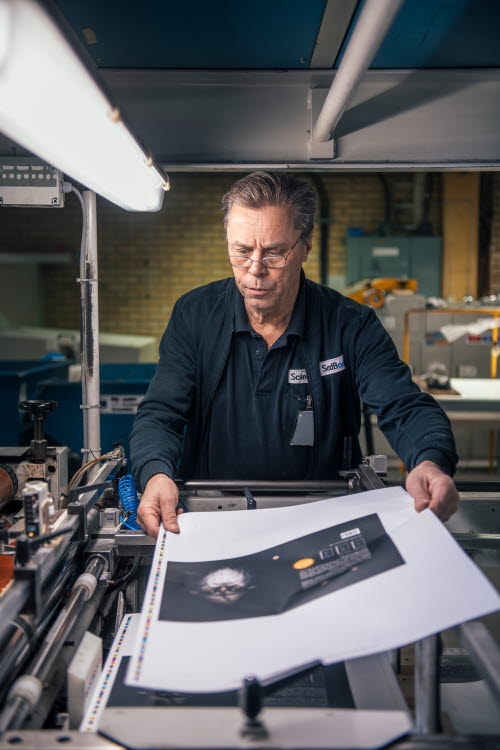 Using the ClimateCalc tool
Having become a member of ClimateCalc, the company is now able to really understand which suppliers have the lowest carbon footprints. ClimateCalc is a tool owned by various European graphical federations. It works out the climate impact of a graphical product through the input of data that represents the specific raw materials used in its production along with data representing the printing company producing it. This is where ScandBook enter information about the salads they consume, the computers they use and the work commutes.
The calculation tells them what their own carbon footprint is and the footprint of a given book. This is how they know how much they need to offset. So it directly influences which suppliers ScandBook use.
"We put in the figures from different suppliers, then make a calculation and see what the result is," says Linder. "It's very easy. We've been using it for a couple of years and we're now looking into new suppliers for some of our materials, as some former suppliers have bad figures. With ClimateCalc you can clearly see the difference."
Being climate neutral helps sell books
But although ClimateCalc is a good tool, Linder says, it doesn't cover everything. "We have ISO standards for carbon emissions in the printing business, which ClimateCalc is in compliance with," he says. "Hopefully there will also be a standard for the publishing industry to calculate the emissions from everything they're doing. It will be more complete and cover the whole value chain."
In today's climate-conscious world, being climate neutral definitely helps sell books, Linder says. "We actually started working with sustainability before our customers even asked for it," he adds. "When we showed them what we could do, a lot of customers wanted it. And of course, there's a business angle. We think we're in a good position in the market by being the first to show that you can be completely carbon neutral. And we have a great reputation in this area. But our initial motivation came from a personal interest. Our CEO Håvard Grjotheim and I have always been interested in the environment."
Advice to other printers
Linder adds that the process to become carbon neutral has been a complicated one. "If I could advise other printers, I'd say start with scope 1. Then go to scope 2 then scope 3. It's quite complicated to do all three at the same time." Other printers may not have to worry so much about scope 3 though, because, as Linder points out, more and more of its customers and suppliers are now following ScandBook's example and looking into their own businesses.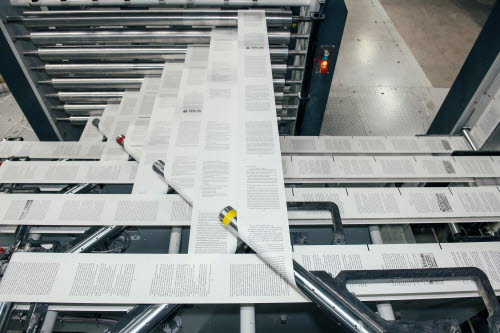 Author: Danny Chapman
Read more about the calculation tool in the article "How to use ClimateCalc for carbon neutral printing".