"We see it not only as our corporate responsibility, but also as a way to meet the demands of our customers."
Pössneck-based GGP Media in Germany forms part of Europe's largest printing group, Bertelsmann Printing Group (BPG). It is a leading print and finishing service provider in the A5 black/white sector, producing a wide range of books, magazines and catalogues, as well as other A5 publications and e-books. Some of its best-known titles include the Harry Potter books, the Diary of a Wimpy Kid series and A Promised Land by Barack Obama. Perhaps less widely known is that GGP Media is also a sustainability trailblazer.
"It's our goal to be a pioneer when it comes to sustainability in the industrial book production sector," says GGP Media director of quality and environmental management, Jessica Kramss. "We see it not only as our corporate responsibility, but also a way to meet the demands of our customers."
Ambitious environmental targets
GGP Media's group, Bertelsmann, has set ambitious environmental targets, seeking to reduce its CO² emissions by 50%, and become climate neutral by 2030. It has also pledged to increase its use of renewable energy. Meanwhile, GGP Media is certified by Forest Stewardship Council (FSC), the Program for the Endorsement of Forest Certification (PEFC), and ISO 50001 for energy management.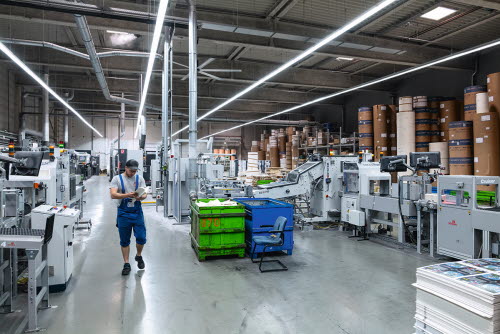 Until full climate neutrality is achieved, there is still plenty that can be done to minimise climate impact. Apart from seeking to increase energy efficiency and reduce emissions, GGP Media works with carbon offsetting. This scheme is used by companies to compensate for the CO² emissions produced by their activities by contributing to initiatives designed to reduce the CO² in the atmosphere by an equivalent amount.
"Since 2008, we've offered climate-neutral production and, since 2021, we've been offsetting both our site and employee-related CO² emissions," continues Kramss. GGP Media has also been using green electricity since 2017. "In our industry, emissions cannot be completely avoided, but they can be compensated," explains Kramss. "In practice, this means that the emissions we cause are offset by environmental projects we undertake."
Climate neutral title – or customer
Reducing CO² emissions and climate offsetting are key to GGP Media's sustainability work, which is audited every year.
"Our environmental data is requested and analysed annually by Bertelsmann and an environmental report is then produced," says Kramss. The data evaluated includes site-related emissions, such as the use of electricity, gas and oil, employee-related emissions, including commuting, business trips, IT equipment and so on, and product-related emissions from paper, printing ink and glue among other things.
"As a print and finishing service provider, we account for a small share of the total CO² emissions from paper and book production – only about 10% of the total emissions are generated by GGP Media," Kramss explains. When requested by customers, GGP Media can also calculate the product-related CO² emissions of a specific title or range – and make either the product or the customer completely climate neutral.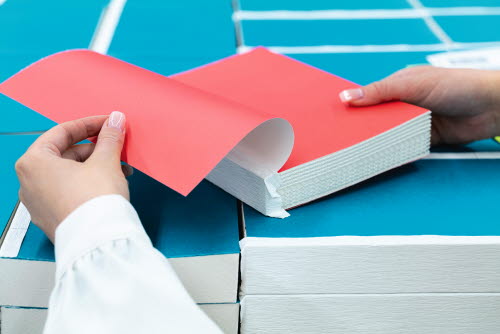 Sustainability has become second nature at GGP Media. Aside from being driven by its own commitment to environmental stewardship, Kramss believes sustainability has become a commercial imperative too.
"Sustainability is a major issue in the book sector," she says. "Some publishers have made their entire production climate neutral, while others are doing so with individual titles."
In 2020, in response to growing customer demand, GGP Media joined the Cradle to Cradle Certified Products Program and was awarded a certification the following year. "Cradle to Cradle is an international certification for raw materials and products that can be fully reused to maintain or even increase their value," says Kramss.
Lowest carbon footprint
Paper choice also impacts climate performance. For example, Holmen BOOK from Holmen Paper's mills has one of the lowest carbon footprints on the market. Thomas Pieper, commercial director of Holmen Paper DACH in Germany, explains that this low carbon footprint is the result of a longstanding process at the company.
"We have worked diligently on reducing our mills' carbon dioxide emissions over the past 15 years, and lowered them by more than 95%", he says. "And we use only 100% fossil-free electricity. It really makes a difference when it comes to carbon footprint for paper production."
Reasons for choosing a supplier
Choosing the right paper and supplier is important to Jessica Kramss too. "We have measured the climate impact of the paper we use and found that making the right choice of paper or supplier can impact emissions," she continues. A long-standing user of Holmen paper products, Kramss stresses that reliability, price, performance, quality and environmental management all contribute to GGP Media's supplier choices.
"Customers and suppliers play a key part in our environmental performance".
"GGP can only do so much – customers and suppliers play a key part in our environmental performance," she says. "And last but not least, I'd like to mention our employees whose involvement is crucial to our continuous improvement and environmental management efforts."