Who am I?
My Holmen journey goes back further than that. It actually began 18 years ago when I joined as a trainee, after which I had an office job in Norrköping and then I headed north again to work as silviculture manager in Härjedalen. I stayed there until I decided it was time to move south again, for the easier transport links and to be closer to my family in Germany.
And so here I am in Uppland where, after five years as a wood buyer, I had the opportunity to advance further as a manager and leader.
My department/workplace
My main office is located in Länna, the largest of our three offices in the region.
It's a lovely old building that we are currently renovating internally to create a fresher and more enjoyable working environment.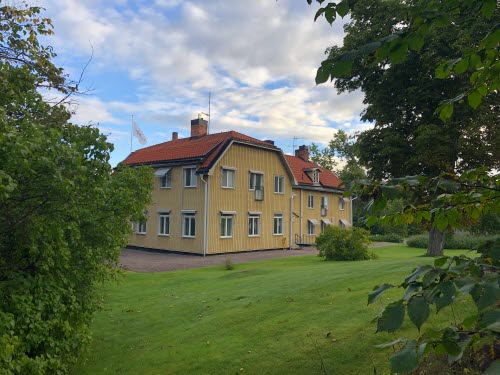 The team I work with comprises both my department and the employees in the departments that are linked to us along the chain, such as production, delivery and silviculture.
Our job is essentially to build and maintain business relations with new and existing customers. For us, the customer is the forest owner – we provide them with a range of advice on forest maintenance and we buy wood from them. The latter largely consists of standing trees in the forest that are then harvested by the contractors that we engage. We issue instructions to the processes along the chain on how the different assignments are to be completed in terms of both the customer's wishes and the conservation needs of the forest. And we also assist our customers with planting new forest.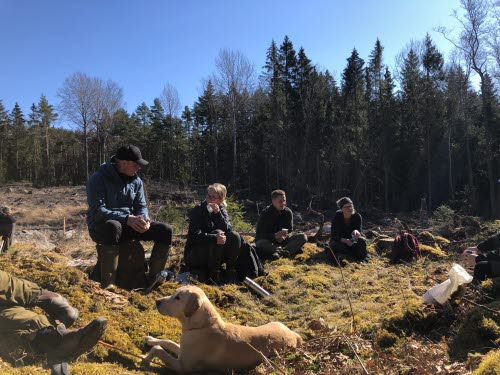 Together as a team, we help to provide Holmen's production facilities with the raw material they require.
To keep all this running smoothly, we need to keep up with our internal learning, for example like here where we're calibrating our work in the field (which for us means the forest 😊).
A working day
My working days vary quite a lot, which I really like. I also like the freedom to largely structure my own day and the interaction with my department.
Administrative tasks in the office are interspersed with field trips, going out with my employees on the ground. In my leadership role, coaching is one of my key tasks, maintaining a dialogue on handling current situations and ongoing development of both the business and employees, based on our set goals. My day also includes various meetings within and between the different functions.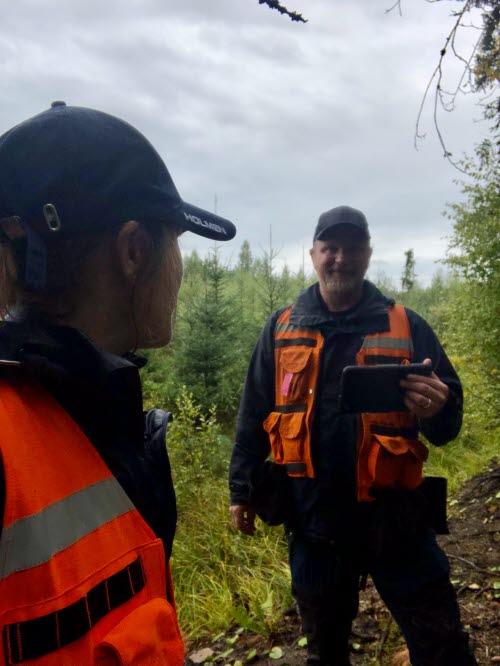 Here I'm accompanying one of our operational planning specialists on a wet Tuesday in September.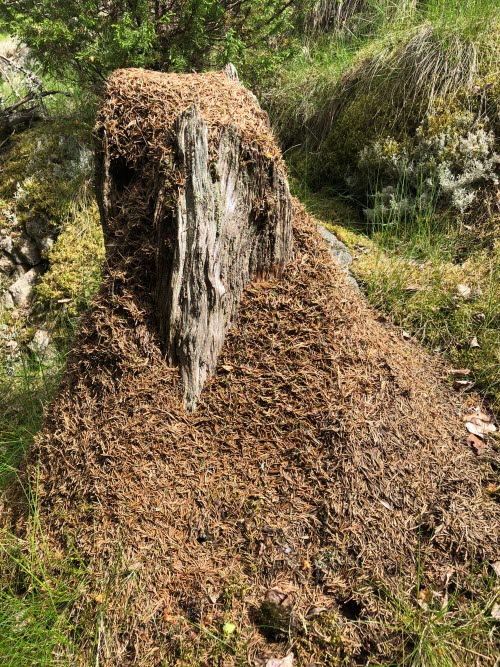 Why Holmen?
I love my welcoming place of work, and really appreciate the opportunity to develop, not to mention the fact that I can bring my little dachshund to work with me.
As the mother of two little forces of nature in preschool, it's essential that my job gives me the flexibility my life requires.
When I look back on my journey with Holmen, I feel gratitude for everything I've got to see and learn as I've both witnessed and played an active part in the journey that Holmen has taken to become the employer it is today – while acknowledging the changes that have been achieved and the challenges that still lie ahead for us.