I have the honour of being this week's writer and I'm excited to be able to tell you all about my workplace. It's the best place I've ever worked!
I'm a huge snowmobile fan so there's an extra bonus to working here as there's a snowmobile track that runs right outside. But you don't have to be a snowmobile fan to find this a unique place to work.
What do I do?
I work with an amazing team and we communicate really well, which is what it's all about with the kind of work we do. I am mainly in the Finishing department, where we machine cutouts in various kinds of beams. This might involve drilling holes, milling or trimming, where we need to use big circular saws or chainsaws. Sometimes there isn't any custom work and we just have to check that the beams are intact and meet the quality criteria before sending them on for packaging and delivery to the customer. The pictures show us working with beams that need to be block glued and screwed together after customised cutouts.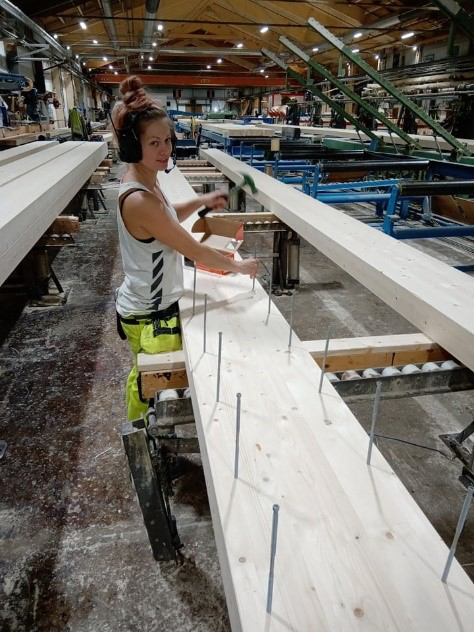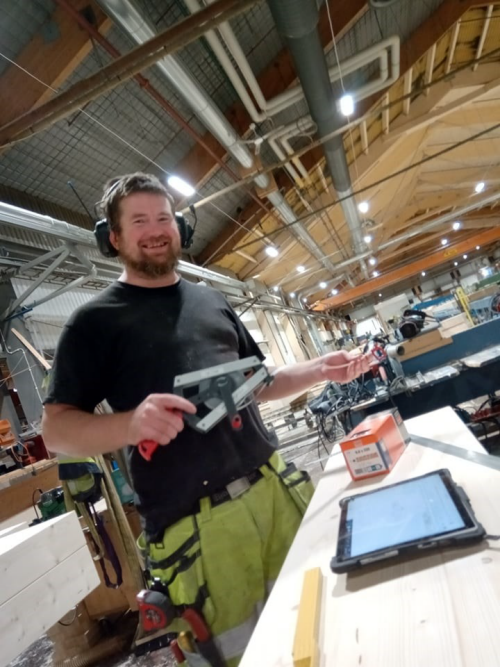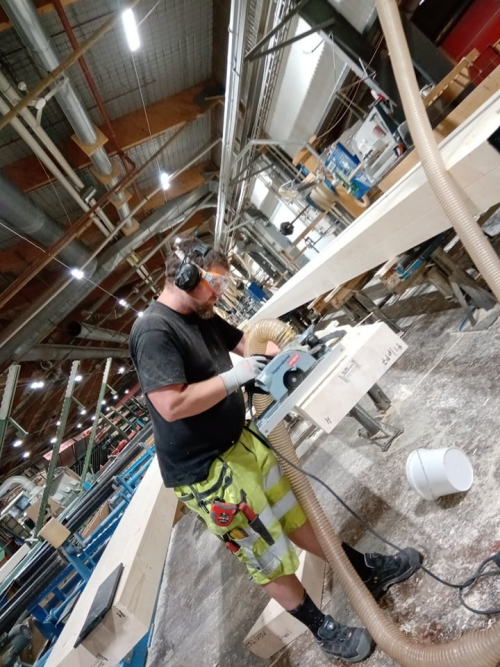 An interesting job which demands concentration, precision, problem solving, cooperation and strength
Here in factory 1, we're one part of a complete process. Intake -> joints -> gluing/press -> large plane -> trim saw -> splitter -> small plane -> finishing -> packaging. We also have the swing saw for beams that don't need finishing and are less than 3 metres long. In addition, there is a trimming warehouse where different dimensions are stored and orders can be taken straight for delivery.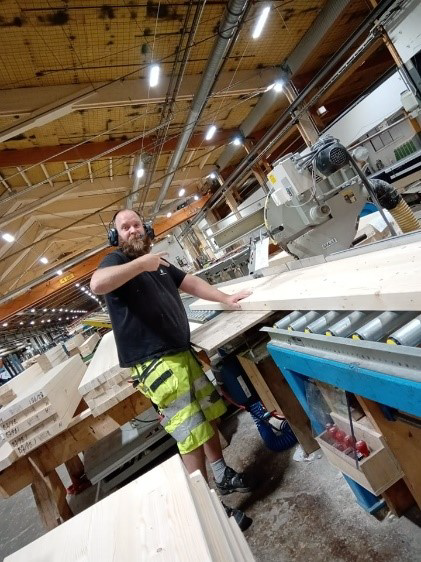 We wear headsets all the time and communicate through them. In between all the instructions, there's often a lot of laughter too. We have an interesting job which demands concentration, precision, problem solving, cooperation and strength. We find ways of supporting each other and work in teams to ensure the best possible flow through the process. In the breaks there's time for jokes and a bit of fun because that's important too to create a good atmosphere at work. The workplace is like a second home really as we spend a third of our time here, so it's important to enjoy your work and appreciate each other's differences.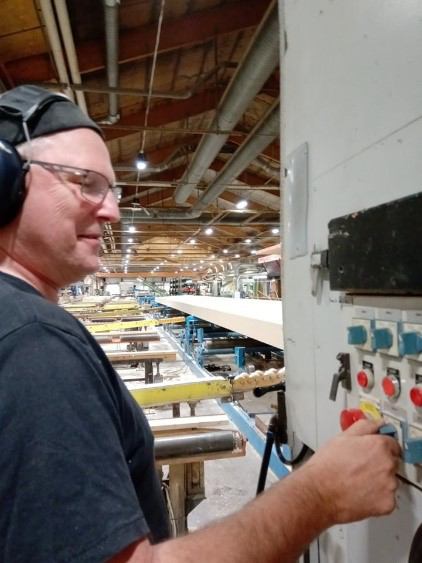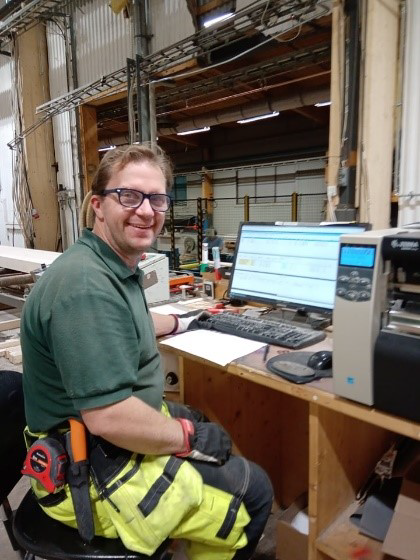 We also work in two shifts here, which means working days and nights in alternate weeks. It's a good shift system which means we get more time at home and don't finish too late at night. You can get up and make use of the whole day. I like the variation and the weeks when I'm working nights give me an opportunity to miss my family, which I feel is important sometimes.
There's a wonderful scent of wood
This unique, creative job where we work using hand tools has its own amazing charm and that's what I fell for! There's a wonderful scent of wood and if you love creating something from drawing to reality, you could hardly get any closer to nature!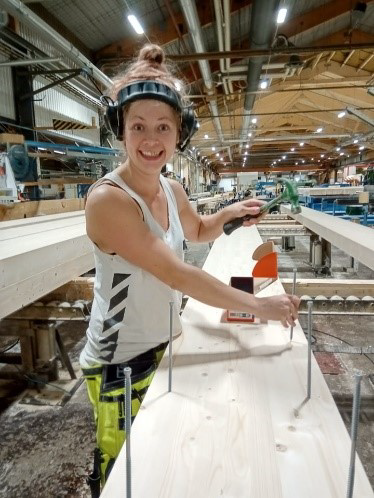 I feel I'm part of something bigger. When I go past buildings that I recognise from having worked on them, I often feel proud of my part in a successful architecture project.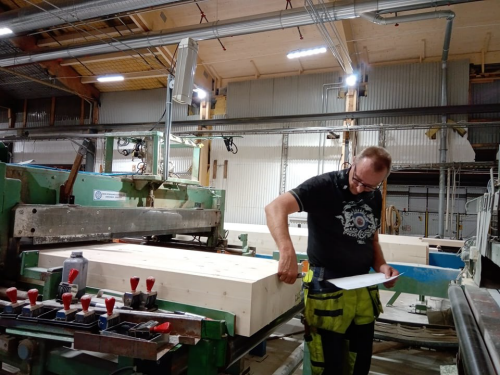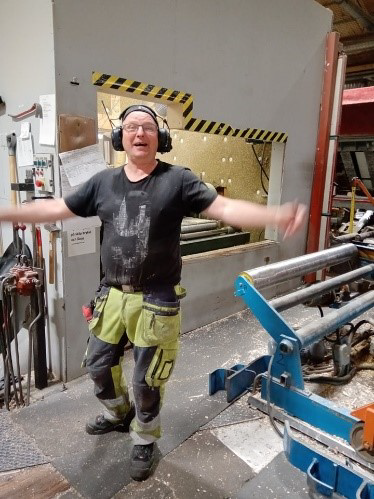 I have previously worked in the metal industry, in construction, in the restaurant sector and done lots of other fun things. But here I've found a workplace where I want to stay! Holmen is a major employer with a good range of jobs and opportunities, so there's plenty of scope for personal development and enjoying your work.
Thank you for reading
I am so pleased to have been entrusted with writing this week's blog! It's been fun talking about what we do and what a day at work looks like for me. Now I'm really looking forward to winter and enjoying getting back into the routines at work again after a wonderful, warm summer.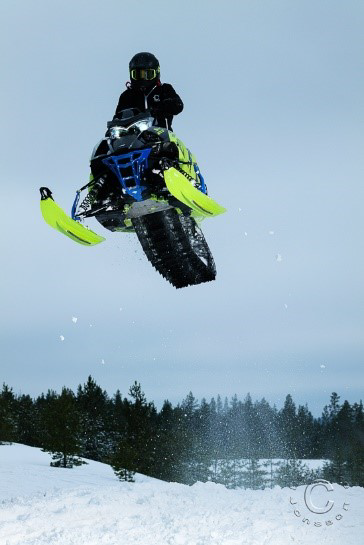 All the best, Lovisa Lindgren