At the moment I am blogging for Holmen's employee blog in social media. All posts will be published here.
January 27
First a little bit about Holmen Wood Products, which consists of five sawmills; Braviken Sawmill, Iggesund Sawmill, Linghem Sawmill, Kroksjöns Sawmill and Bygdsiljum Sawmill. I have worked at Braviken's sawmill since April 2010, which means that I started here before the sawmill was put into operation in 2011. It has been fantastic to be able to participate from the beginning and see when the sawmill grow. During the first 9 years, time goes by quickly when you have fun, I worked as a production planner in the sawmill's product department and since September 2019 I have been head of the department. I suppose 10 years in the same department is a sign that I enjoy the workplace and that I enjoy working with my colleagues. The product department consists of delivery planners, production planners and an oversorter.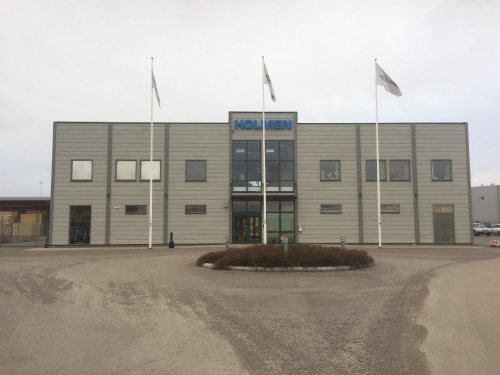 In the product department, we work together with the rest of our employees at the sawmill to ensure that the right product arrives at the right quality at the right time. I think we succeed with that and I am convinced that it is because our department consists of many dedicated and talented employees. Here I have captured some of them in the picture (we do not always sit this symmetrically when we are having a coffee break). Our oversorter is not in this picture, but I may catch him in some later post.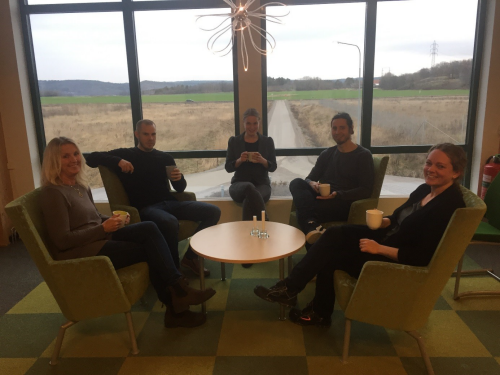 For us, communication is important and we who work here understand that it is necessary for the business to function well. Production planners, together with the product manager, establish a plan on how and when different articles will arrive and determine what volume we can promise at a given time. Delivery planners keep in touch with sales people, customers, our product manager as well as our employees at the product terminal and book freight.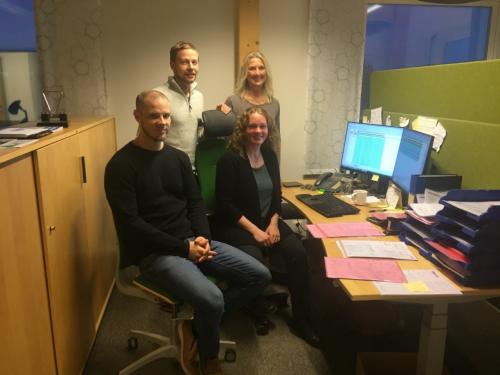 All planners help to control production so that the delivery plan can be kept. Our oversorter ensures that the timber is sorted into the qualities we have agreed with customers and sellers that we will deliver, he also ensures that the sorting equipment and that the employees have the training and information required for us to sort properly.
January 30
Today I thought that I would show you what I am working with and what a normal work day can look like. The most interesting part of the day was when our Oversorter Oreste showed me the settings he has made in our sorting equipment for our new adjustment station and we talked about how to save and present production statistics. Recently, Oreste has worked extensively with quality settings in the programs for our new camera equipment. This is how satisfied you can look when feeling confident with the settings you have made. No perfect order on the table but a genius can handle some chaos…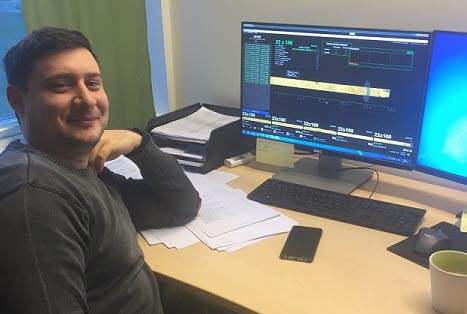 For those of you who do not work at a sawmill: An adjustment station is where sawn timber is sorted into finished packages according to special quality requirements and an oversorter is a person who sets the sorting equipment so that the timber is sorted according to the quality requirements.
In order to keep any remaining readers awake, you can follow me to the adjustment station. Here is our technician Hampus who was test driving some pieces through the cameras when we got there. Everything seems to go according to expectations, but Hampus usually looks this happy all the time.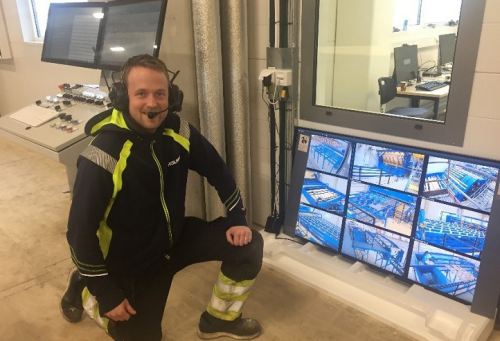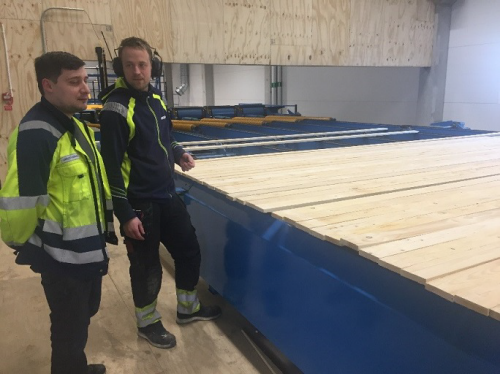 Now you may think that this post does not really reflect a normal work day, but for me, an unusual work day is quite common. Since unusual working days often occur, you can say that this was a fairly ordinary day ... There is a great risk that I have lost you in my reasoning. You will have to rest your brain for my next post. I will end the day with a picture of the intake to the adjustment station. Here our trucks will put on dried unadjusted wood and to the right, outside the picture, the finished packages will come out. With Hampus and Oreste's settings, I think we will soon have the right quality of the finished product out of the adjustment system.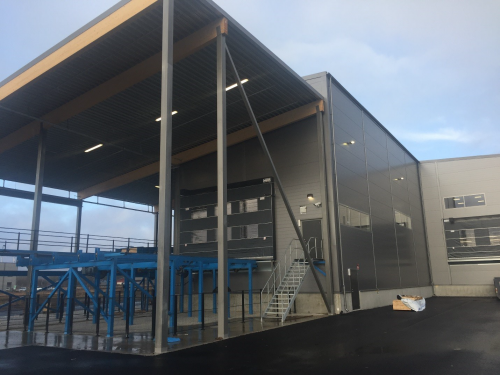 February 4
Working at a sawmill is a good fit if you appreciate change. It is a bit like the weather in April, if you do not appreciate how it is right now you just have to wait a while then everything has changed. New challenges and tasks are what makes it so great to go to work and we always find new challenges. For the past few years, for example, we have built an impregnation plant, begun to deliver timber from bark beetle damaged forest to the United States, and we are in the process of putting our new adjustment plant intp operation. All this while our annual production volume is constantly increasing. New products mean that we have to adapt quality sorting, systems, sorting tables and planning to meet our customers' requirements. It is not common for us to be bored.
Investments in production increase and new plants for processing the timber would not have been executed to the same extent unless there was a strong belief in the future of sawn timber products. It is great to be part of a workplace with a bright future, it is probably one of the reasons why we have a good atmosphere. Today I finish my post with a picture from today's workout.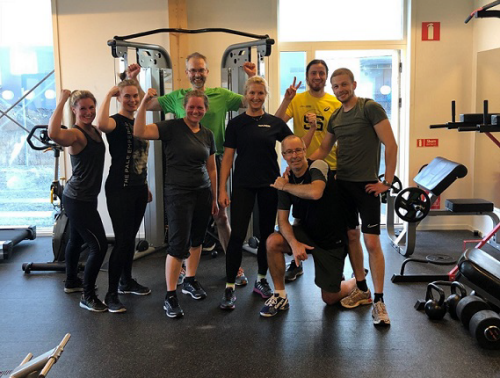 This is how happy we looked like when the training session was over. If I'm going to be really honest, we didn't look so happy during the training itself. I will not publish any picture showing of what we look like when we go up the stairs to the office tomorrow with soreness after the workout in our bodies.
February 6
Hello again. Today I left the office for a while and made my way up the saw to take a look at the timber rolls that we have put up in a new area behind the saw. We will soon be sorting pine timber again and we must create places for the new timber rolls. It was a long time since I was in the saw so it felt like it was time to go here again. The new rollers were in place and everything seemed to go according to plan. The sun was actually shining today so I took the opportunity to take some pictures. At the top you see the view from the saw cabin with the timber sorting to the right and undried wood and wood dryers to the left. Further down you see a picture from inside the sawhouse and a picture with a wooden package in the middle stock.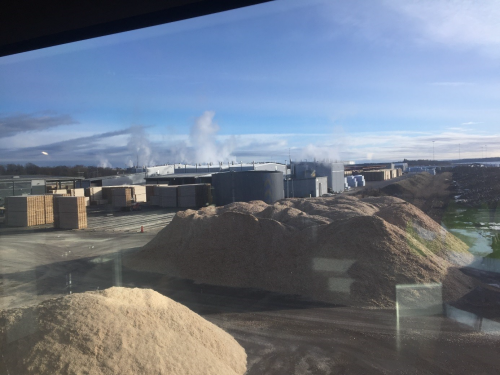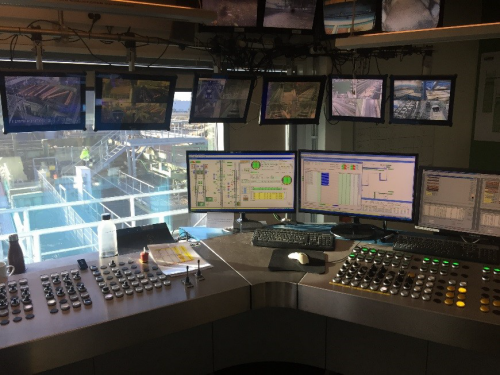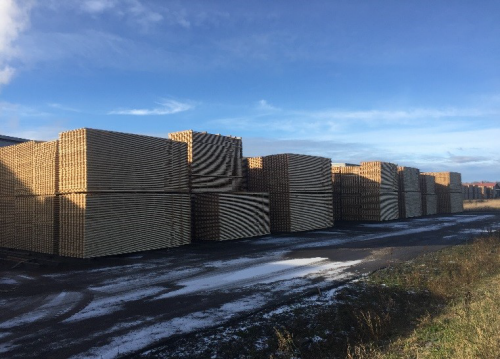 This is my last post and it is time to thank you for following what I have written for the past two weeks. My hope is that you have a better idea of ​​what I and the others at Braviken's Sawmill's product department are working with. My ambition has been to show that we have fun and varied tasks and that we have a good atmosphere at work, I hope I succeeded. Next week, another colleague at Holmen will write on the blog and I look forward to reading what is written.