Who am I?
When I'm not working, I'm studying to become a certified forester, and in the autumn I'll be starting my fifth and final year on the course! I like to spend my spare time out in nature, along with my partner and our dog.
This will be my third year of summer jobs at Holmen and I've always really enjoyed it, not least because I get the chance to be challenged in my work and try new things. So it felt like the obvious choice to apply for a job this year as well.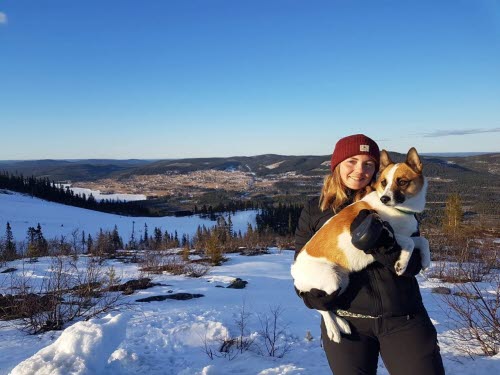 A working day
In logistics, communication is key, so your phone and computer are your best friends! The job involves meeting lots of people, being a problem solver and having the courage to make decisions. In addition to communicating a great deal with my colleagues, I tend to have most contact with the haulage companies that actually transport the wood.
Image: This is what my workstation generally looks like.
My work mostly involves responsibility for the operational flow of deliveries from the forest to the industrial sites, checking that we are delivering the right wood to our customers and our own mills, and ensuring that we are going to get in the volumes agreed for that month. Good communication with the haulage companies and close collaboration are essential in this job.
Significant volumes are also transported by sea and rail in the Central Region. Right now there are numerous ships and trains departing at regular intervals and I'm responsible for making sure there is enough wood at these terminals for a full load every time. Running half-empty ships and trains is both expensive and inefficient, so it's important that we plan well and keep track of stock levels at the terminals, so we can always make best use of capacity.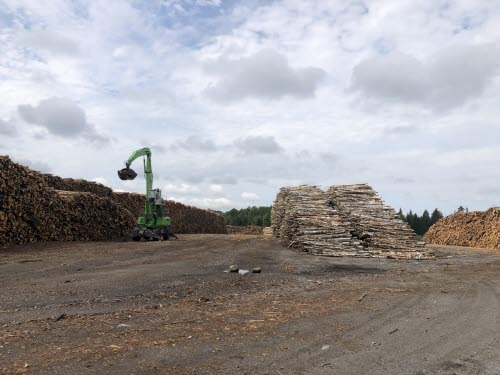 The picture shows our wood terminal next to the port here in Iggesund where the ships dock to load and unload.
How would you describe your time at Holmen?
My time at Holmen has been a huge learning experience and so much fun! When it comes to working in logistics, one day is rarely the same as the next since this is a front-line job where anything can happen. This means there is never a dull moment at work and you constantly learn new things. At the same time, I've had so many wonderful and helpful colleagues who are always willing to help out and discuss how best to resolve a problem. The culture at Holmen is generally like one big, welcoming family, which is so great for newcomers.
What will you take away from your experience?
The main take-away from my time at Holmen Forest is how incredibly important communication and good relations are when it comes to getting things done. No one can manage on their own – we need every part of the chain to work in order to achieve the best outcomes, and that depends on good collaboration. I'll also take away the importance of staying calm and taking a step back in stressful situations, which hopefully allows you to make the best decisions.
Finally, I'd like to thank you for reading and wish you a fantastic summer 😊