Who am I?
I grew up in the forest on the border between Halland and Småland. Then I headed to Dalarna, before finally settling in Söderköping. Here my wife and I bought a former children's home, which prompted an interest in building conservation. Many hours have already gone into the restoration work to convert it into a home and a studio for my wife, who's a tailor. Almost finished….
When I get tired of scraping paint, I go for a run in Ramunderberget nature reserve. I've covered quite a few miles over the years.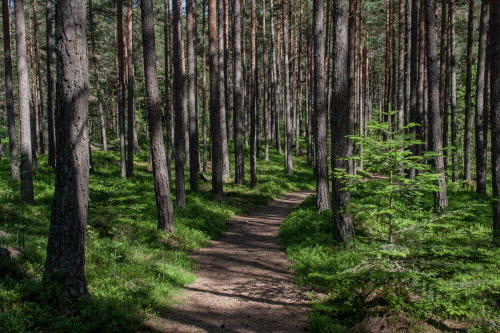 I have a broad interest in art and literature, and there is plenty to enjoy locally! A world-class private art exhibition, the Ståhl Collection, recently opened in Norrköping. And Söderköping has the oldest bookshop in Sweden, which holds an incredible stock of titles, not to mention readings, signings and other amazing events.
My department: Central Maintenance – Electrical Power
The team I belong to is called Central Maintenance – Electrical Power.
As well as us electrical power technicians, the team also includes a team manager, electrical power engineers, electrical technicians and industrial electricians.
We work on preventive and corrective maintenance, as well as the new investments in switchgear from 130 kV to 400 V. High-voltage motors, battery UPS and auxiliary power systems, lifts and traverse hoists, fire alarm systems, and so on.
If you want to know the details…
Our specific responsibility is to ensure the reliable and safe operation of the power distribution from 130 kV to low-voltage switchgear. This involves double incoming 130 kV lines and 10 transformers to go from 130 to 10 kV, with over 200 outgoing 10 kV switch bays to low-voltage transformers and 10 kV motors – all connected to a central system for operation and control. The system sends SMS alarms and warnings to our phones, so we can be working anywhere on the factory site.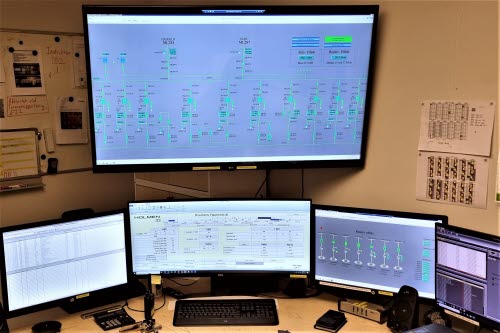 A working day
The first working day after a break is always a morning shift from 6 am to 2 pm.
There's a handover with my colleague on the night shift, who will update me on what's happened and what is ongoing.
My colleague has discovered an oil leak from a 130 kV transformer that needs fixing. If the oil level drops too low, the transformer will cut out and production on a pulp line will come to a halt.
I check the transformer before 7 am, when our maintenance team meets to go through the day. We look at how production has been running, what maintenance work has been carried out and what plans we have for the day.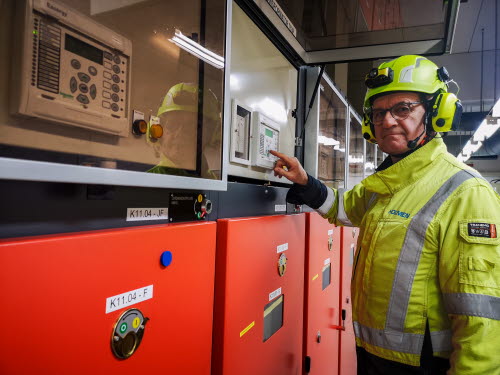 After the meeting, our electrical power engineer contacts Vattenfall, who promise to come this morning to mend the fault. The power to the transformer must be turned off before the work.
The power system is designed so I can run two 130 kV transformers in parallel, so they can share the load and the first one can be powered down without any disruptions to production. I draw up a connection plan to switch off the power and secure the worksite.
I switch the power around in the office, where we have a control screen for power monitoring. I check there is no power to the transformer and I earth it. To increase safety, we always try to have two of us doing a high-voltage connection procedure, one to read the plan and the other to perform the actions.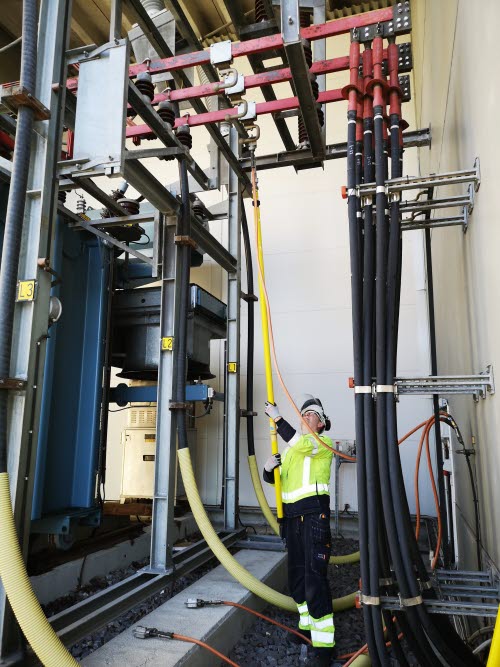 The work schedule means that it can be at least a week, sometimes two, between meetings with my boss Nicklas Johansson. So we always have a meeting planned for the first morning shift, to check in.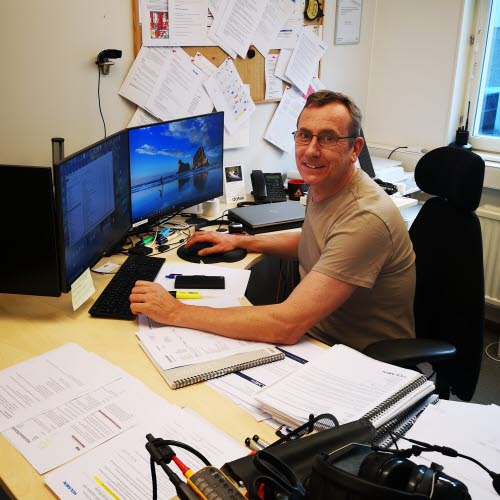 When Vattenfall arrives, I produce a written risk assessment of the work for them, then they receive a permit to work from me, stating that the equipment in question has been switched off, disconnected and earthed. Now they are ready to get started.
I receive a phone call and a question about the fire safety system in an area where building work is about to begin. The fire safety computer in the office shows all the buildings across the factory site, which are protected by various types of detectors and sprinkler systems. Here, I can see the reading on each individual detector in real time and temporarily disconnect some of them while work is ongoing. I disconnect one section and give the green light for the work.
The next call comes from the TMP factory, which is going to replace the segments on a refiner. They are powered by 10 kV motors, so I have to disconnect and lock off the 10 kV switch bays that feed the motors before the work can begin. At the same time, I take this chance to replace one of the switches, as it is due for a service.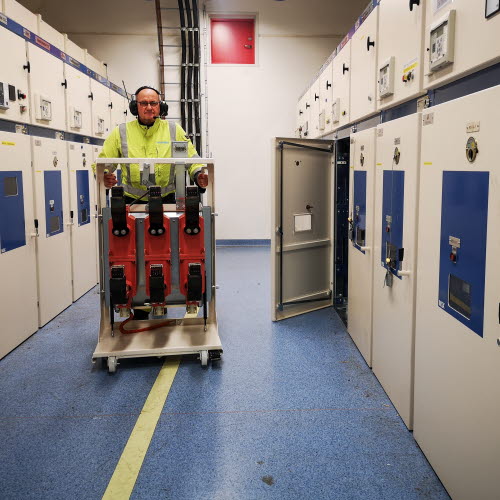 Production is maintained 24/7 on a constant three-shift rotation. The electrical power technicians follow the shift pattern of the operational teams, while all the other maintenance workers work daytime hours. There are also teams on call for mechanics, electricity/automation and process systems.
So in the evenings, overnight and at weekends, we are the only maintenance workers on site.
This adds a further dimension to the role. We have to correct faults relating to electricity/automation/systems across every part of the factory, to the best of our ability.
It's exciting and challenging! And we do a good job, though I say so myself. But our success also depends on close collaboration with the operational staff and shift managers. If we get stuck with troubleshooting or are not completely familiar with a particular system, we can always ring someone for advice or bring in an on-call team.
Why Holmen?
I first joined Holmen almost by accident, but I'm still here after so many years because my job is so interesting and varied.
There is a special satisfaction in everyone working together and pooling their expertise to solve the problems that can occur in a complex plant like this.
Having owners that have proved their long-term commitment also feels good in an industry that is undergoing major changes.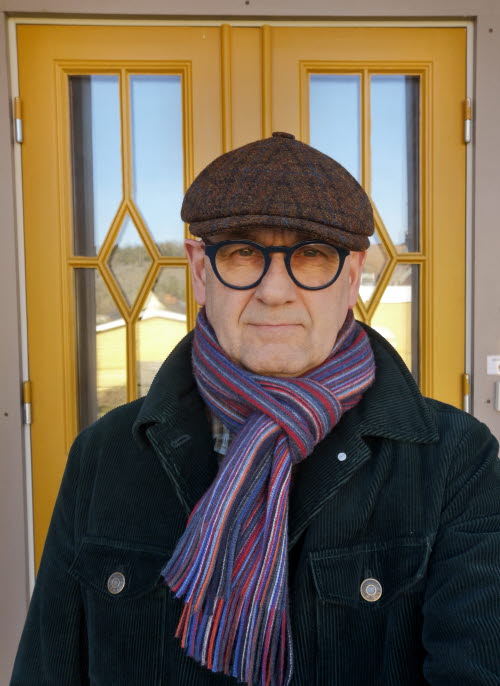 As I write, it's three o'clock in the morning and from first thing, I'm scheduled for five days off.
I think it's one of the advantages of working shifts – concentrated periods of work followed by a good period of leave.
That's all from me!