Holmen's paper mill in Norrköping sits in the bay of Bråviken on the Malmölandet peninsula, a Natura 2000 protected area of oak woodland. Our industrial site borders this area and we also have areas of high conservation value inside our gates, with several large, old oaks that provide the perfect habitat for hermit beetles and other rare species.
- Working here, we often see creatures large and small inside the site, such as deer, hares and birds. We even have a sea eagle that nests nearby, which we think is fantastic, says Leonard Dahlberg, environmental and quality engineer at Holmen's paper mill in Braviken, Norrköping.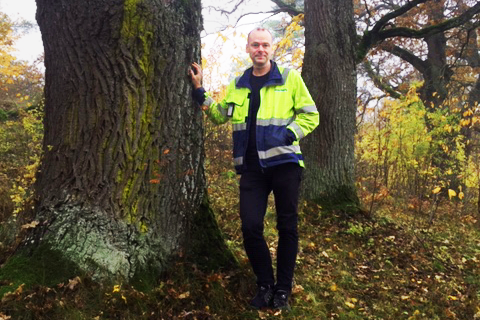 Leonard Dahlberg
In the early 2000s, Holmen began planning the construction of a modern new sawmill alongside the paper mill, which has cut the transport of wood chips, a residual sawmill product used as raw material at the paper mill. The sawmill also supplies the paper mill with biofuels, and in return receives energy from the paper mill that it uses to dry all its boards, amongst other things. Building the modern sawmill right next-door to the paper mill has thus delivered major climate and energy gains.
Strong focus on animals and nature during construction
When building the sawmill in Braviken, we implemented a number of measures to preserve the local ecosystem. This included planting 1 500 oak seedlings to reinvigorate identified core areas and improve the green corridors that are so vital to wildlife.
We also regenerated 31 hectares of oak woodland within Holmen's section of Malmölandet, not least on our industrial site. Thinning out other smaller trees has given the oaks more space to grow healthily.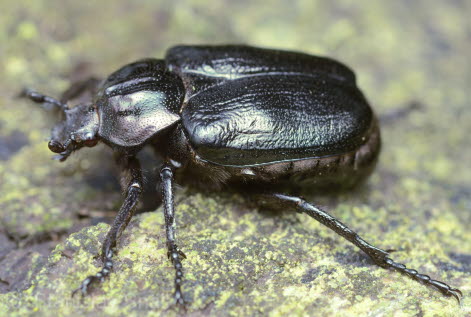 Old oaks vital for the hermit beetle
The oaks in the area are home to several endangered species, such as the hermit beetle and the pseudoscorpion Anthrenochernes stellae. The hermit beetle has very particular demands when it comes to habitat, preferring to live in trees that are over 200–250 years old. In fact, the oaks with the largest populations are often 300–400 years old. Clearly it thus takes a long time for an oak to develop into an attractive home for a hermit beetle.
- It feels like a very positive move to have preserved the areas of high conservation value within our industrial site. We care for all the old oaks, both inside and outside our gates, and we'll continue to do so, says Leonard Dahlberg.
What is Natura 2000?
The Natura 2000 sites are a network of protected areas across Europe, where the aim is to create good habitats for endangered animals and plants. Sweden has over 4 000 Natura 2000 areas, totalling 7 million hectares. Some of these are nature reserves or national parks.