At the moment I am blogging for Holmen's employee blog in social media. All posts will be published here.
November 18
I work at Holmen Iggesund, one of our business area. I will share some common and less common work days, though 'regular work day' is a rather arbitrary term when dealing with business development, but more about this in my upcoming posts. I have been at Holmen for just over two years now and what attracted me here was to possibility to work for an international company that is at the forefront in its field and to be able to develop sustainable solutions that contribute to a better future.

November 20
Hello from work!
Today I am at Holmen's office on Strandvägen 1 in Stockholm. It's just one of my workplaces. Sometimes I work in the office at Iggesund mill and other times I work from my home office, which is extra nice if, for example, I have been traveling a lot.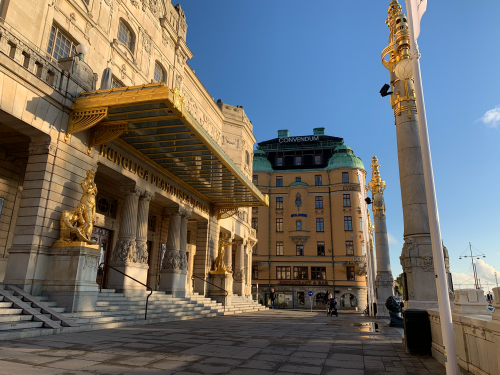 Holmen´s head office at Strandvägen 1, Stockholm
Before I continue, maybe I should explain the relationship between Iggesund Paperboard and Holmen. Holmen Iggesund is one of five companies / business areas within the Holmen Group. I belong to Holmen Iggesund and we manufacture paperboard for consumer packaging and graphic products, produced from the Group's own forest.
November 21
It is now noticeable that we are starting to approach the end of the year, outside it is cold and chilly and work-related we are many who are fully engaged in completing the activities planned for the year. At the same time we are planning for next year's activities. One of the more exciting tasks I have right now is to assist in the preparation of our business plan for the next five years. For several months now about 20 people from different departments have been involved in producing material for the business plan. I just came out of a workshop with Iggesund Paperboard's sales management and over the next few weeks, me and my colleagues' mission is to describe what initiatives we should focus on and what goals we will set for the future.
This is probably what I like most about my tasks: being able to contribute and setting strategies. Then I can use (what I believe is) my strengths in a creative and fun way.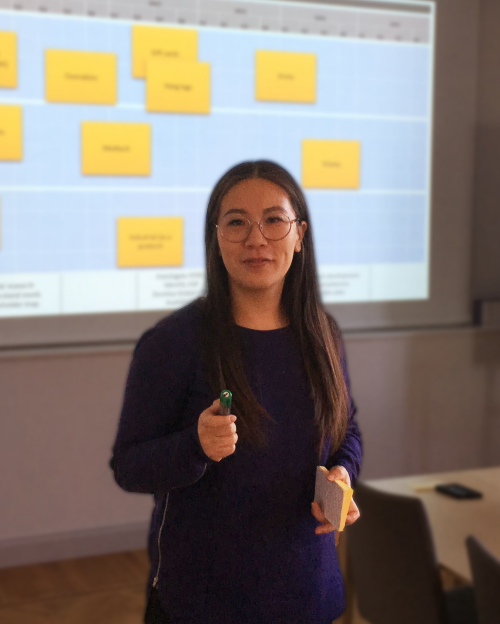 November 25
Today I am in Iggesund. I usually go here about once every two weeks. The train journey from Stockholm takes only 2.5 hours and I spend two or three days here before returning to Stockholm. I almost always take the train here and I always try to choose the more sustainable alternative when traveling. Just this time I went up here to work on a new business concept with some colleagues. I have invited these to test using Scrum as a way of working for initiatives from our idea bank. Scrum is an agile development method, very common in IT and R&D, and I want to test if we can adapt it for the type of business development we run in our department.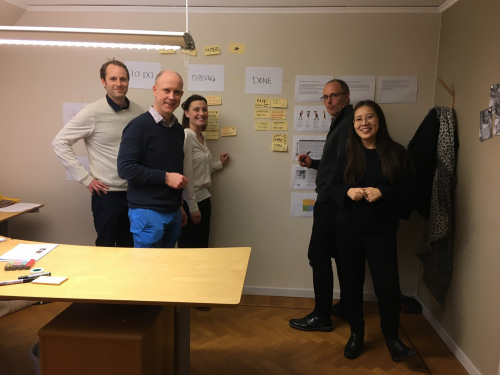 What I like about the method is that you get a completely different focus on the task from the working group, and that you break down complex issues into more manageable pieces that you iterate until you are satisfied, then it will be checked off. This means that you build on your case and move on in the process, and everyone recognizes that checking off tasks is very satisfactory. Yes, this may work, but probably need to be evaluated for a while before being a part of our existing toolbox. But before that, I'll take a break.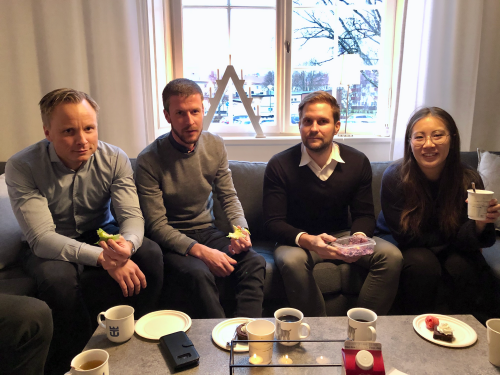 November 28
Today some of our potential partners visited us up in Iggesund.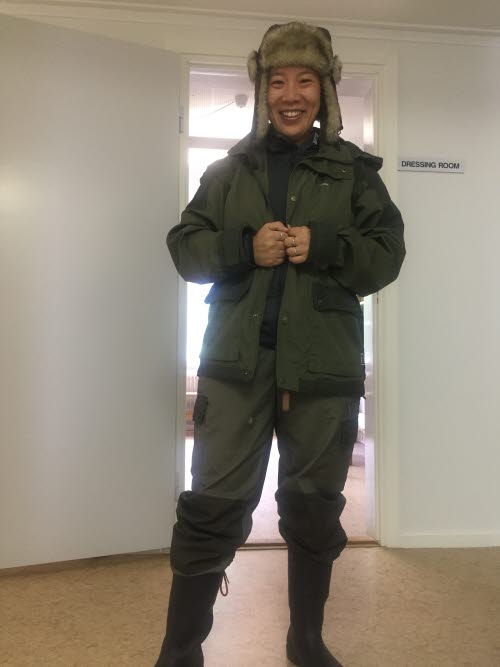 Our opportunity to offer customer visits is a real asset and it is one of the things that I am very proud and grateful to be able to offer our customers and partners. We have a whole department that plans, arranges and ensures that the visits flow smoothly, which is needed as we have over 100 customer visits per year and sometimes three times a week.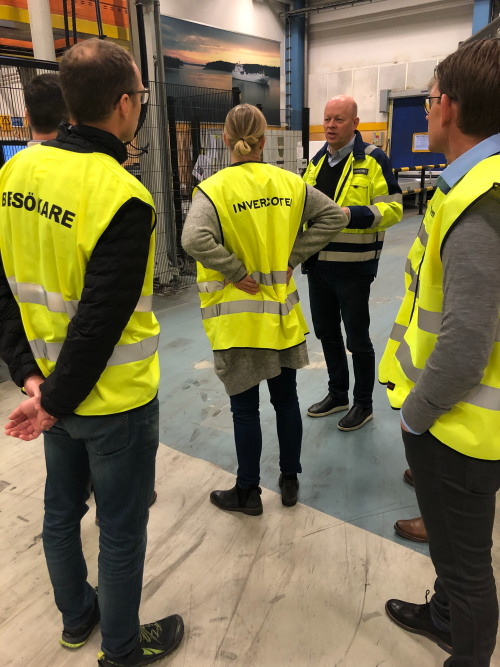 In addition to showing the plant where we manufacture paperboard, we usually also take customers out into the forest to show how we take care of our most important raw material - the forest in a sustainable and responsible manner.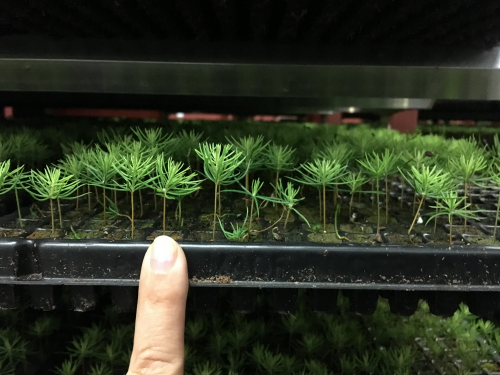 Then we also have Grillska Manor, a manor house from the 18th century where we can accommodate guests and have dinners and lunches together, and where we non-local employees can also stay overnight while we are here. If you are lucky you can meet the ghosts, but you may have to have been employed for more than two years…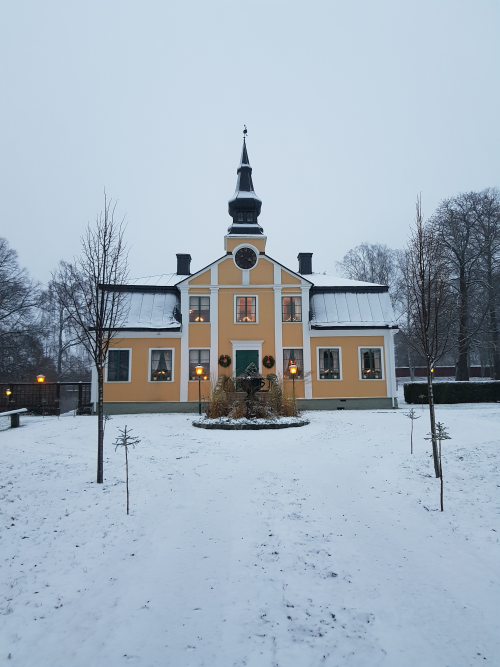 I participate in a few visits a year, this will probably be my last for the year. It is always great to see how much our guests appreciate coming here and learning more about paperboard manufacturing and Invercote, the product we manufacture here.
November 29

This will be my last post and I hope you have received a little insight into what it is like to work with us. Now it is time for the next person to take over the "pen" and it will be very interesting to read! But first, a final note from me and my third workplace, my home office.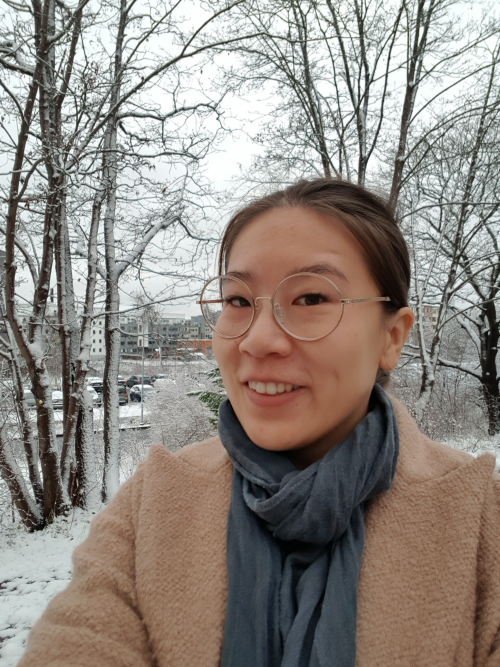 Many people ask me: Isn't it hard to work from home? Isn't it hard to get something done because of all distractions at home? Being able to work from home for a few days can be the thing that makes one's life go together but also difficult because other aspects, and I also think it depends entirely on who you are as a person. I think it's especially nice if I traveled a lot during a period, but I can also miss the social life you have in an office. So that's why I'm going to share some of my tips for you who are or are just started working from home:
I need to draw a line between work and my private life, and I need to feel that I "go somewhere" so I always try to take a walk around the neighborhood in the morning and when I come back the "job" begins. Can also be combined with picking up a cappuccino at my local coffee shop (depending on whether it is long or short after pay).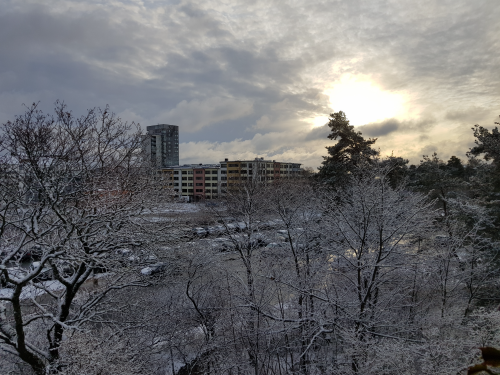 If I am sick, then I am sick. I ask myself if I would have taken a sick leave if I was working in the office and the answer applies for my home office as well. Health is very important to me and just because you work from home you should not work when you are sick. Also, I think it is very important for companies to get statistics on sick leave.
Do not feel that you need any important reason to call colleagues, most of us have social needs and appreciate when we get a call whether it is job talk or just so-called hallway talking.
Perhaps most importantly, never have a bad conscience because you feel that you are not efficient or not getting things done. I have noticed that the feeling of not getting things done is more intrusive when I work from home, but in terms of results I have never noticed any of it. There are distractions inside an office too, so if we are to count "working efficient time" they are probably quite similar.