In an event called Myller, Robertsfors Municipality organised special days for local residents and other stakeholders in the region, and on one of these days three unique shelters were inaugurated along the beautiful Rickleån river that flows through Holmen's forest. Students from Umeå School of Architecture created these one-of-a-kind walkers' shelters using timber from Holmen's sawmills.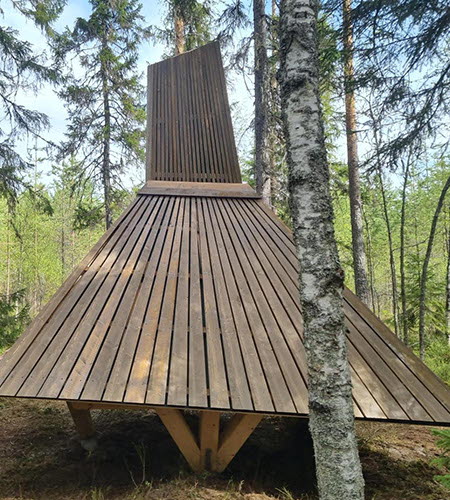 This is a joint venture between Robertsfors Municipality, the Scandinavian architecture festival ARKNAT and the School of Architecture. Over the years, ARKNAT has won international recognition and awards for its concept where students, industry, municipalities and the general public collaborate on innovative shelters for people out enjoying nature.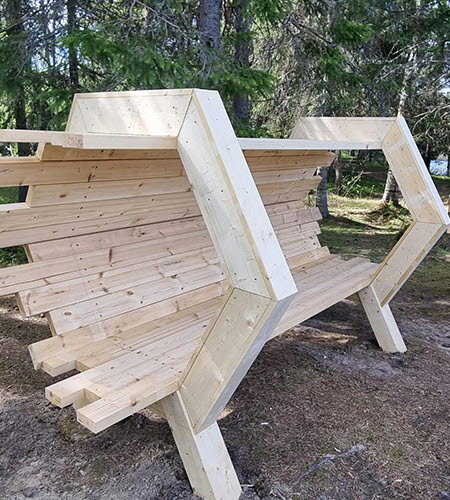 Holmen has played a key role in the project by providing land and wood, and now the shelters are available to the public all year round.
"Supporting this project was an obvious choice for us. We want to encourage building in wood, and giving architecture students the opportunity to do so in Holmen's forest here in Robertsfors makes complete sense," says Olov Martinson, mill manager at Bygdsiljum Sawmill, who attended the inauguration of the shelters at Räveln, on the outskirts of Robertsfors.
"We welcome people to our forests to experience nature and learn more about forestry. I'm pleased that we were able to allocate land for two of these unique shelters, which have been inspired by their surroundings," says Michael Burström, manager of Holmen's forest holdings in Västerbotten.
The third shelter is on land owned by Robertsfors Municipality.
You are welcome to come and visit the shelters, which are located here: