Sweden's forest is an invaluable resource that binds carbon and provides a renewable alternative to fossil materials. It is also home to numerous plant and animal species. Holmen's hard work carefully managing the forest in a way that encourages biodiversity has now paid off – in the spring the golden eagle population gained a new addition when a healthy golden eagle chick hatched in Kunnådalen.
"The successful hatching of a baby golden eagle is clear evidence of the quality of the environment and a sign that biodiversity is flourishing," says Andro Stenman from the Swedish Society for Nature Conservation in Örnsköldsvik, who has been following the development of Kunnådalen's healthy forests at close hand.
Working closely together with the Swedish Society for Nature Conservation
Holmen and the Swedish Society for Nature Conservation have been working closely together to ensure that the high conservation values of Kunnådalen are preserved. The partnership involves the society carrying out surveys, contributing expertise and reporting back to Holmen. The reports are integrated in Holmen's map data so the forest planners can see the location of protected assets. This enables Holmen to plan for forest management that retains or increases biodiversity.
Home of four of Sweden's big five predators
- If you look carefully enough, you can find four of Sweden's big five predators in Kunnådalen – bear, wolverine, lynx and golden eagle. At Holmen, we work hard to make sure that all naturally occurring animals and plants are able to continue living in the Swedish forest landscape. It's important to us. Our knowledge forest in Kunnådalen shows how it's possible to reconcile active forestry with pre-serving and promoting important natural assets for future generations, states Jan Åhlund, head of forest technology at Holmen.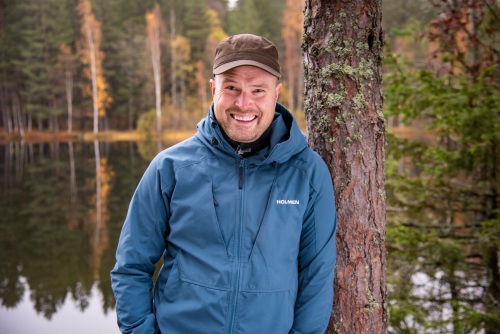 Jan Åhlund
Monitoring golden eagles
The Ångermanland Ornithological Association conducts surveys of birds in the province and has been running a golden eagle project since 1983. The birdwatchers have been watching this particular gold-en eagle nest in Kunnådalen for many years and so knew that the eagles were nesting and a chick was on the way. In the spring the eagle family's situation was considered to be sufficiently safe to approach the nest and ring the chick.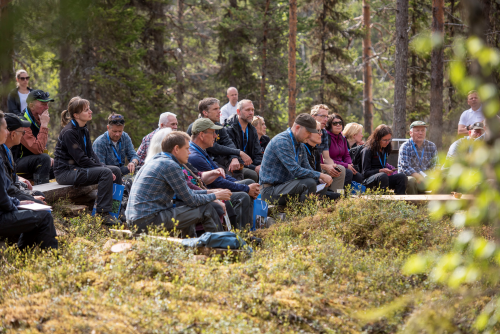 Opening Kunnådalen knowledge forest
- When Kunnådalen knowledge forest was opened in June 2019, the Swedish Society for Nature Con-servation talked about the amazingly high conservation value of the area. We are very happy that Holmen's funding has enabled Ångermanland Ornithological Association to carry out the survey and that they are successfully making use of the data.
This is unique in the sense that Holmen is the only forest company that we have had this type of relationship with. We hope to be able to extend our partnership with Holmen to cover the whole of central Norrland, concludes Andro Stenman from the Swedish Society for Nature conservation.