The damage to spruce trees in Sweden, and even more so in Europe, has created an increased supply of logs and sawn wood products, which has led to steep price drops over the year. In a move to recover as much as possible from the beetle-damaged wood in southern Sweden, Johan Padel, Senior Vice President Wood Products, and Sören Petersson, Senior Vice President Forest, took the decision to saw more spruce, and only spruce, at Braviken Sawmill.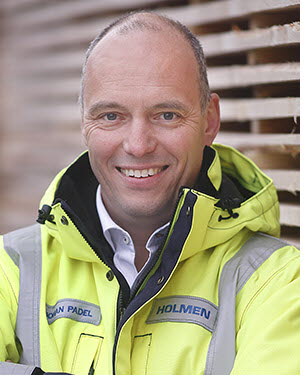 "I spotted an opportunity because there was demand for spruce in the USA, which is, after all, the largest wood products market in the world. We therefore acted quickly and stopped the production of pine in early September to instead produce 'American' spruce, which actually has to be considered a third wood type/range," explains Johan.
This is because US rules are different to those in Europe. In terms of quality, wood that has suffered some attack from the spruce bark beetle can still be counted as a premium product. In addition, the wood products have to be sawn into different lengths and dimensions, based on the Imperial measurement system of feet and inches.
Retooling a large sawmill to accommodate the new circumstances is not something that can be done overnight, and practically every member of staff has been involved in the move to the new range.
"The switch has been incredibly demanding, but I feel it has gone extremely well. Everyone has shown a massive amount of enthusiasm and commitment," says mill manager Ove Sjögren.
The logistics side has also been heavily impacted. Small deliveries have been shipped across the Atlantic over the autumn, but now the first full cargo has left the Port of Norrköping, heading for Cape Canaveral in Florida. The journey takes two weeks, and the ship contains 10 000 cubic metres of wood products from Braviken and Linghem, enough to load up 180 trucks stateside.
"I'm expecting a positive response from the market, although it is still a slightly nervous time," says Johan, who adds that the speed and flexibility with which the restructuring work has been performed shows Holmen's real strength – we are a smart and tight-knit forest company!

Footnote: Braviken Sawmill will return to sawing pine in the first half of 2020.