Iggesund Paperboard Workington have a number of training roles available each year. We offer apprenticeships in Electrical and Mechanical Engineering, IT and Business Administration, and a brand new Papermaking Apprenticeship.
Do you want to know more?
Contact Chris Sutcliffe, training manager at Workington Mill. chris.sutcliffe@holmen.com
Award winning apprentices
Brandon Hartley and Georgia Irving, who you meet in the video above, have both won awards from The Printing Charity. Brandon and Georgia impressed the judging panel at The Printing Charity with their knowledge and enthusiasm for the business, winning them a Print Futures Award.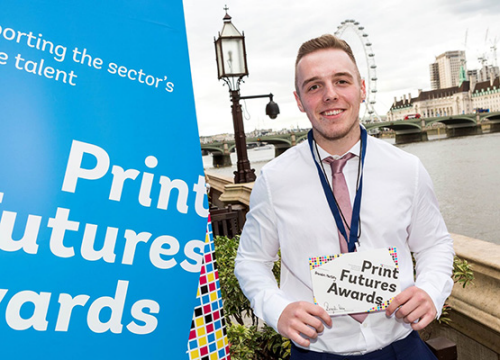 The Printing Charity was set up in 1827 to help aged, infirm, and distressed printers and their widows when there was no state support. In 2003 the charity launched The Print Futures Awards to help people fund costs associated with relevant training courses in printing, publishing, packaging or graphic arts. The charity is now working to encourage the future talent necessary to secure the sectors future.
Brandon travelled to the event to receive his award along with shift manager Roger Blair and it was clear that our papermaking apprentices made an impression as Roger explains "I was particularly proud of the fact that Baroness Dean made particular reference to Georgia, Brandon and Iggesund Paperboard in her welcoming speech to the 200+ guests. "
Brandon and Georgia are no strangers to attending industry events, they have both been asked to speak at the North and South Trailblazer Apprenticeship Scheme which are well attended by industry professionals.
Brandon takes it all in his stride though. "Naturally I am delighted with the award which will help me especially in the next two years with the technical training part of the apprenticeship beginning in September. I am also grateful to Iggesund for allowing me the opportunity", says Brandon.