Holmen is wholly committed to mitigating climate change and to leave nature better off than when we borrowed from it.
As a sustainable forest company, we let the forest grow and give. For every tree we harvest, we plant two more trees and each year we produce more than 35 million seedlings. During the last 100 years the volume of the Swedish forest has more than doubled.
To spread the beauty of forestry and the knowledge of its possibilities to combat climate change, Holmen is 'planting it forward' by planting a tree in your name. Everyone who signs up will receive a Certificate of Care and be able to make a symbolic contribution for a better climate.
Forests transform carbon dioxide into oxygen. They are nature's own carbon storage solution.
They are a seed for change, and we hope we can spread the knowledge about how responsible forestry can mitigate climate change by planting it forward.
Fill in the form below to receive a Certificate of Care as proof of a tree planted in your name.
Keep planting it forward!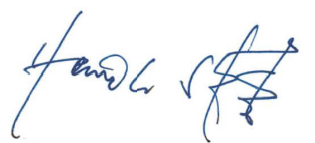 Henrik Sjölund, President and CEO, Holmen.