The aim of Holmen's work on safety is to make the workplace free of injuries for employees. A safe work environment is always high on the agenda and the issue is monitored constantly at management level. Holmen's forest department is certified in accordance with PEFCTM and FSC® (FSC-ID), and all production sites are certified in accordance with OHSAS 18001, which means that health and safety are systematically addressed throughout the Group.
The number of accidents per million hours worked increased to 5.7 in 2019 from 4.9 in 2018. The dominant causes of accidents are slipping, tripping and pinching. Cuts and lacerations have fallen during the year thanks to measures put in place, but slips, trips and pinch accidents have increased. In recent years, we have successfully managed to reduce the number of accidents and despite this year's rise to 27 (24) incidents, efforts are moving in the right direction. This year's rise shows how important it is for us to continue to take a farsighted approach, focused on our
vision of zero accidents.
Industrial accidents 2019
with more than 8 hours of absence
per million hours worked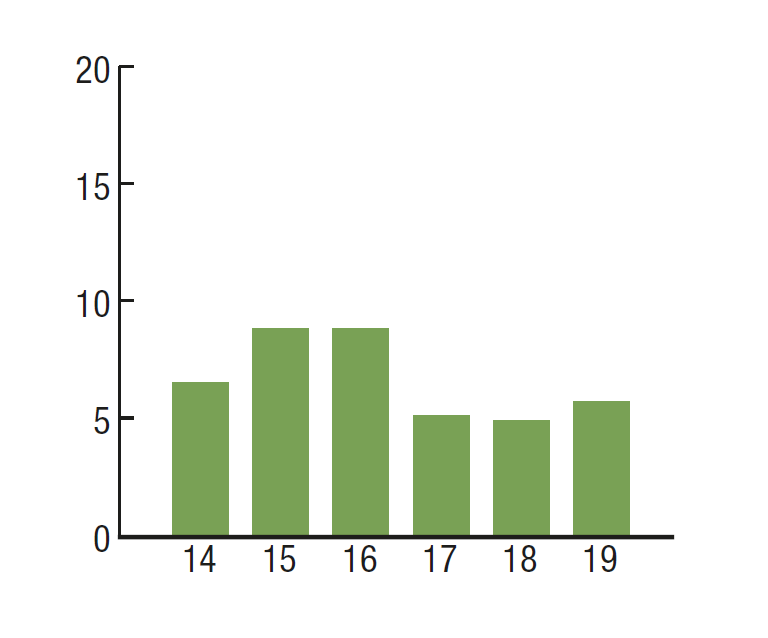 Sick leave 2019:
Sick leave total: 3,8
Long-term sick leave > 60 dagar: 1,6