In 2019, Distribution Plus invested in a machine that could not only wrap magazines in plastic foil, but in sustainable paper too, thus becoming the first company in Denmark to introduce paper packaging as an alternative to plastic.
"People have become more aware of the environment and are looking for sustainable solutions for the future. Ultimately, the end customers define the market and they increasingly resent plastic foil," says Project manager Kim Lodberg.
"Some customers were sceptical, but the paper from Holmen is made from sustainable forestry, which means that they never cut down more trees than the forest can reproduce."
Although plastic foil is a lot more common, increasing numbers of Distribution Plus' larger customers are switching to paper packaging. "Paper wrapping shows consideration for both the environment and good design," says Jesper Jensen, head of production. "For some customers, paper wrapping has become an important part of their visual identity."
Paper wrapping works well in machinery
Meanwhile, in terms of machinery, the move has been pretty pain free, according to production manager Martin Luther.
"The time spent is the same, the printing is done in the same way and it's the same packing process," he says. "It's easier to print logos on the paper roll and the paper rolls are larger. This means fewer roll changes and less machine stops – especially when we use the Holmen PACK 50g rolls, where you get 4,000 more metres per roll, because the paper is thinner though still strong enough."
Distribution Plus isn't giving up on plastic foil just yet, however. "We still do both – according to our customers' wishes," says Kim Lodberg. "The problem is that consumers often don't know how to handle plastic and recycle it properly. Paper, on the other hand, is a clear signal to the consumers – people know what to do with it."
Customers are responding by choosing the paper solution again and again, with more and more choosing paper exclusively. "Bagging in paper has brought our business ahead of others," says Jesper Jensen. "With the environment on the public agenda we definitely see it as the future."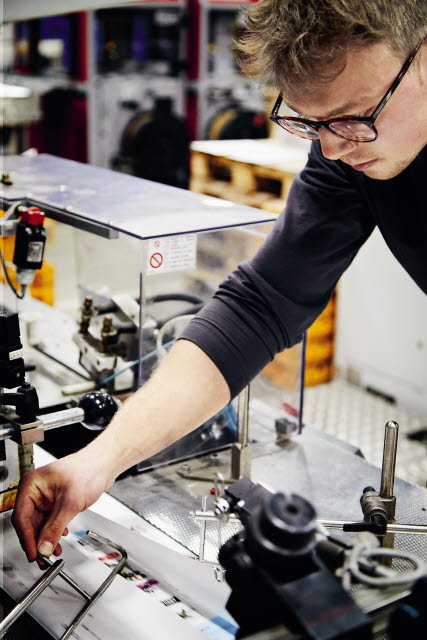 This article is an extraction, so there is more to know. Continue to read about Distribution Plus in our customer magazine Paper.